Floor-Mount

Combination

Presses,

Punches,

and Shears
Also known as a 40-ton metalworker, these hydraulic machines handle a variety of forming tasks including pressing, punching, notching, and shearing. The safety guard complies with ANSI B11.8 standards. Machines require 1 1/2 gallons of Mobil DTE 24 Ultra or equivalent hydraulic oil (sold separately).
Hydraulic-Assist

Multipurpose

Bolt,

Wire

Rope,

and Cable Cutters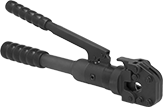 Hydraulic-powered jaws cut bolts, wire rope, rods, and electrical cable with low effort and minimal material distortion. Blades can be sharpened and replaced.
Cutter rated for 20,000 volts has insulated handles.
Replacement
Cutting Blades

Steel
Stainless
Steel
For


Max.

Soft
Steel

Dia.

For

Max.




Steel-Reinforced


Aluminum Cable

Dia.

For

Max.


Data
Cable

Dia.

For

Max.


Rebar


Dia.

Overall


Lg.

Jaw
Material
Handle
Material
Grip
Material
For


Max.


Voltage
Each
Each

5/8

"

5/8

"

5/8

"

5/8

"

5/8

"

1/2

"
15"
Steel
Steel
Rubber
Not Rated
0000000
000000000
0000000
0000000

3/4

"

3/4

"

11/16

"

3/4

"

3/4

"

1/2

"
15"
Steel
Steel
Rubber
20,000 V
0000000
00000000
0000000
000000
1

1/8

"
1

1/8

"
1

1/4

"
2

1/8

"
2

1/8

"

3/4

"
24

1/2

"
Steel
Steel
Rubber
Not Rated
0000000
00000000
000000
00
1

1/4

"
1

1/4

"
1

1/4

"
1

1/4

"
1

1/4

"

7/8

"
27"
Steel
Steel
Rubber
Not Rated
0000000
00000000
0000000
000000