Hydraulic Winches for Wire
Rope—

For Horizontal Pulling
For high capacities and long life, these winches have a powerful hydraulic motor and hardened steel gears. They have an automatic brake that holds the load when the motor stops. Enclosed gears offer protection from dirt and debris.
For wire rope, see Wire Rope with Hook for Winches.
Note: Capacity is highest for the first layer of rope (at least five wraps of rope on the winch) and decreases as each additional layer of rope is wound on the winch.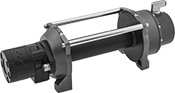 Max.




Cap.,




lbs.

Fully
Wound


Cap.,

lbs.

Min.

Line


Speed,


fpm

Max.

Hydraulic
Flow @
Pressure
For

Max.


Rope


Lg.,

ft.

For
Rope


Dia.

Base


Wd.

Base


Lg.

O'all




Wd.

O'all




Lg.

O'all




Ht.

Material
Rope with
Hook
Included
Inlet
Thread
Size

Inlet
Thread
Type
Each
6,000
3,600
32
15 gpm @ 1,700 psi
99

5/16

"
5

29/32

"
11

13/16

"
6

3/8

"
20

1/2

"
6

1/2

"
Aluminum, Steel
No

7/8

"-14

UNF

0000000
000000000
9,000
5,400
20
15 gpm @ 2,200 psi
126

3/8

"
8

7/16

"
13

3/4

"
8

1/2

"
23

5/8

"
8

1/2

"
Aluminum, Steel
No

7/8

"-14

UNF

0000000
00000000
12,000
7,525
22
15 gpm @ 2,200 psi
121

7/16

"
8

7/16

"
12

19/32

"
8

1/2

"
24

1/4

"
8

1/2

"
Aluminum, Steel
No

7/8

"-14

UNF

0000000
00000000