For Use With

For Use With
Show
For Use With

For Use With
Hide
Warning: Products have one, but not necessarily all, of the selected characteristics.
Spill Capacity

Spill Capacity
REACH (Registration, Evaluation, Authorization and Restriction of Chemicals)

REACH

(Registration,




Evaluation,

Authorization
and Restriction of

Chemicals)
RoHS (Restriction of Hazardous Substances)

RoHS

(Restriction

of
Hazardous

Substances)
Container Size

Container Size
DFARS (Defense Acquisition Regulations Supplement)

DFARS

(Defense

Acquisition

Regulations

Supplement)
Harsh Chemical Neutralizing Granular Sorbents

Sop up hydrofluoric acid, solvent, and formaldehyde spills with these granular sorbents. They safely absorb and neutralize chemical spills in a single step.
For Use With
Net

Weight,




lbs.

Type
Spill


Cap.,

gal.

Material
Color
Each
Hydrofluoric Acid
1

1/2

Jar
0.4
Clay
Beige
0000000
000000
Harsh Chemical
Spill-Control

Kits
Be prepared for a variety of chemical spills at your worksite.
Kits for hydrofluoric acid include a granular sorbent that neutralizes hydrofluoric acid for safe removal.
Kits for acids, bases, hydrofluoric acid, formaldehyde, and solvents include a neutralizing granular sorbent for acid spills, such as battery or hydrochloric acid, and one for base spills, such as sodium hydroxide. They also include separate granular sorbents for neutralizing hydrofluoric acid and formaldehyde. Kits have a granular sorbent for neutralizing solvents that captures harmful vapors and elevates the flash point of the spill to 140° F to reduce flammability.
For Use With Hydrofluoric Acid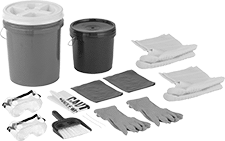 For Use
with Hydrofluoric Acid
Spill


Cap.,

gal.

Size,




gal.

Type
Includes
Each
4
5
Plastic Pail
One 10-lb. Pail of Granular Hydrofluoric Acid Neutralizing Sorbent
Two Pairs of Latex Gloves
Two Pairs of Boot Covers
Two Pairs of Goggles
Two Aprons
One Miniature Broom and Dust Pan
One Disposal Bag
0000000
0000000
For Use With Acids, Bases, Hydrofluoric Acid, Formaldehyde, Solvents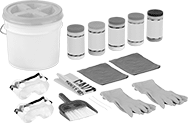 For Use
with
Acids,
Bases,
Hydrofluoric
Acid,
Formaldehyde,
and Solvents
Spill


Cap.,

gal.

Size,




gal.

Type
Includes
Each
2.5
3.5
Plastic Pail
One 1.5-lb. Jar of Granular Acid Neutralizing Sorbent
One 1.5-lb. Jar of Granular Base Neutralizing Sorbent
One 1.5-lb. Jar of Granular Hydrofluoric Acid Neutralizing Sorbent
One 1.5-lb. Jar of Granular Formaldehyde Neutralizing Sorbent
One 1.0-lb. Jar of Granular Solvent Neutralizing Sorbent
Two Pairs of Latex Gloves
Two Pairs of Goggles
Two Aprons
One Miniature Broom and Dust Pan
One Disposal Bag
0000000
0000000
| | | | |
| --- | --- | --- | --- |
| Granular Acid Neutralizing Sorbent Refill | 0000000 | Each | 000000 |
| Granular Formaldehyde Neutralizing Sorbent Refill | 0000000 | Each | 00000 |
| Granular Base Neutralizing Sorbent Refill | 0000000 | Each | 00000 |
| Granular Solvent Neutralizing Sorbent Refill | 0000000 | Each | 00000 |
| Granular Hydrofluoric Acid Neutralizing Sorbent Refill | 0000000 | Each | 00000 |