Environment

Environment
Show
| | | |
| --- | --- | --- |
| | | Hide |
Tine Material

Tine Material
Handle Material

Handle Material
Specifications Met

Specifications Met
DFARS (Defense Acquisition Regulations Supplement)

DFARS

(Defense

Acquisition

Regulations

Supplement)
RoHS (Restriction of Hazardous Substances)

RoHS

(Restriction

of
Hazardous

Substances)
REACH (Registration, Evaluation, Authorization and Restriction of Chemicals)

REACH

(Registration,




Evaluation,

Authorization
and Restriction of

Chemicals)
Sanitary Scooping and Pulling Forks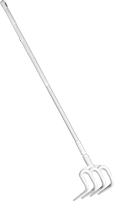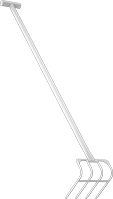 Stainless Steel Pulling Fork with
T-Handle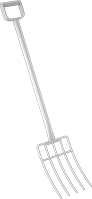 Stainless Steel Scooping Fork with
D-Handle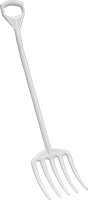 Plastic Scooping
Fork with Angled
D-Handle
Scoop or rake food products in bulk. Compliant with NSF or FDA standards for use with food, these forks are often used to empty large containers in food-processing facilities. All are autoclavable and resist corrosion from frequent washdowns with harsh cleaners.
Pulling forks have downward-bent tines for raking and dragging. Forks with a T-handle are shaped for comfort during prolonged use. Forks with a straight handle have shallow, easy-to-clean threads that reduce the risk of bacteria growth. The handle threads tightly into the head to minimize loosening.
Scooping forks have upward-bent tines for lifting and carrying. Forks with a D-handle provide a comfortable grip and can be hung on hooks. Forks with an angled D-handle reduce back strain when lifting. The angled handle is reinforced with an inner aluminum tube.
Forks with polypropylene tines are lightweight, reducing the effort needed to scoop or rake. They have a single-molded design that leaves no room for bacteria to grow. They won't scratch stainless steel equipment in your facility, and they're commonly used with delicate foods such as grapes or peaches. These forks are FDA compliant for direct contact with food.
Forks with stainless steel tines are highly polished and have continuously welded seams, so they have no crevices that could house bacteria. They're reinforced with a steel bar welded across the tines for increased durability and strength. They're often used for firm and heavy foods such as frozen meat. These forks meet NSF standards for sanitary design for food equipment.
Lg.

Wd.

No.


of

Ht.

Material
Color
Style
Material

Lg.

Features
Specifications
Met
Each

Pulling Forks

59"
7

1/2

"
4
12"
Polypropylene Plastic
White
Straight
Fiberglass
51"
European Threaded Handle
FDA Compliant 21 CFR 177.1520

0000000
000000
60"
8

1/4

"
4
9"
304 Stainless Steel
__
T
304 Stainless Steel
56

1/2

"
Reinforced Tines
NSF/ANSI 2

0000000
000000

Scooping Forks

44"
8

1/4

"
5
8

1/2

"
304 Stainless Steel
__
D
304 Stainless Steel
35

1/2

"
Reinforced Tines
NSF/ANSI 2

0000000
000000
44"
8

1/4

"
5
12"
304 Stainless Steel
__
D
304 Stainless Steel
32"
Reinforced Tines
NSF/ANSI 2

0000000
000000
49"
10

1/2

"
5
10

1/2

"
Polypropylene Plastic
White
Angled, D
Plastic
39"
Reinforced Handle
FDA Compliant 21 CFR 177.1520

0000000
000000