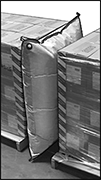 These inflatable paper bags prevent tipping and provide a cushion between products to reduce damage during transit. Use the inflator nozzle (sold separately) to fill bags with compressed air. The nozzle connects to your air supply and includes a tip that fits the receptacle in each bag. Puncture bags to deflate.
Glove Bags
More flexible and portable than glove boxes, these glove bags are temporary enclosures that protect you while you work with hazardous or unknown material and isolate the material from outside air and moisture. They come with built-in gloves to shield your hands and prevent hand oils from getting inside. All have one or two zipper openings for depositing material and equipment. They collapse for storage and are sturdy enough to be used again, but replace them if they become contaminated.
Polyethylene bags have a tubing connector for inflating them with a gas supply. They come with polyethylene gloves, which resist ozone and many oxidizing chemicals. For extra protection, there are also cotton liner gloves.
PVC bags have a support frame for assembling them. To fill them with inert gas, use their barbed gas port fitting. They come with butyl gloves, which have excellent resistance to chemicals, vapors, and gases.
Polyethylene Plastic Bags with Polyethylene Plastic Gloves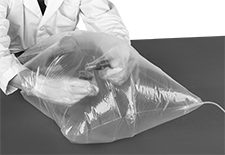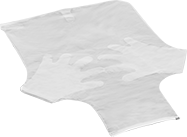 Polyethylene Bag with Polyethylene Gloves and One Opening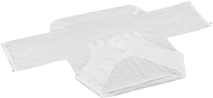 Polyethylene Bag with Polyethylene Gloves and Two Openings
Number
of
Openings
Opening
Width
Height
Width
Depth

Thickness,


mil
Glove
Size
Closure
Type
Maximum


Temperature,




°F

Includes
Each
1
10"
11"
17"
17"
3
9
Zipper
200°

3/8

" Tubing Connector, Cotton Liner Gloves
0000000
000000
1
10"
12"
20"
20"
3
9
Zipper
200°

3/8

" Tubing Connector, Cotton Liner Gloves
0000000
00000
1
10"
14"
30"
20"
3
9
Zipper
200°

3/8

" Tubing Connector, Cotton Liner Gloves
0000000
000000
1
18

3/4

"
12"
27"
17"
3
9
Zipper
200°

3/8

" Tubing Connector, Cotton Liner Gloves
0000000
00000
1
22

1/2

"
15"
27"
27"
3
9
Zipper
200°

3/8

" Tubing Connector, Cotton Liner Gloves
0000000
00000
1
33

1/2

"
18"
37"
27"
3
9
Zipper
200°

3/8

" Tubing Connector, Cotton Liner Gloves
0000000
000000
1
33

1/2

"
25"
37"
37"
3
9
Zipper
200°

3/8

" Tubing Connector, Cotton Liner Gloves
0000000
000000
2
10"
12"
20"
20"
3
9
Zipper
200°

3/8

" Tubing Connector, Cotton Liner Gloves
0000000
000000
2
10"
14"
30"
20"
3
9
Zipper
200°

3/8

" Tubing Connector, Cotton Liner Gloves
0000000
000000
PVC Plastic Bags with Butyl Rubber Gloves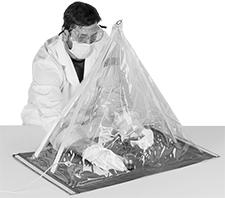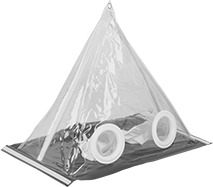 PVC Bag
with Butyl Gloves and One Opening
Number
of
Openings
Opening
Width
Height
Width
Depth

Thickness,


mil
Size
Port
Diameter
Closure
Type
Maximum


Temperature,




°F

Includes
Features
Each
1
23

5/8

"
28

1/2

"
33

7/8

"
22"
60
9

3/4

4

1/2

"
Zipper
110°
One 29" long piece of

5/16

" ID Tubing

5/16

" OD Barbed Gas Port Fitting
0000000
0000000