DFARS (Defense Acquisition Regulations Supplement)

DFARS

(Defense

Acquisition
Regulations

Supplement)

Wipe out colonies of ants when a few take bait back to the rest.
These stations cannot be sold outside the United States due to product registration requirements.
Wd.

Dp.

Color
For Use
Outdoors
Cannot Be Sold To

Pkg.




Qty.

Pkg.

2"
2"
White
Yes
Outside United States
6
00000000
00000
Yellow Jacket Traps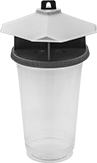 Fill this baited trap with water to drown yellow jackets and then throw it away when it's full.
Traps cannot be sold to Canada due to import regulations.
Dia.

Ht.

Material
Cannot Be
Sold To

1-11

12-Up

4"
9"
Plastic
Canada
0000000
00000
00000