Self-Inking

Rubber Stamps with Date and Message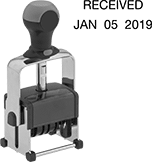 Stamp the date in red ink and a selected message in blue ink at the same time. The built-in dual-color ink pad automatically inks the stamp after each impression for fast, repetitive stamping. Use on porous surfaces such as boxes, fabric, and paper.
Inspection Rubber Stamps

Mark inspected items with a number or message. These pocket-size stamps make 1,000 imprints before needing more ink. Use on nonporous surfaces such as plastic, glass, and metal.