Inspection Gloves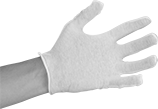 Cotton with Open Cuff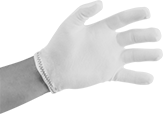 Nylon with Open Cuff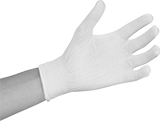 Nylon with Knit Cuff
Keep fingerprints and other contaminants off of parts during inspections.
Cotton gloves are soft and comfortable.
Nylon gloves are stretchable and more form fitting than standard cotton inspection gloves.
Gloves with open cuffs are more convenient to put on and take off than other gloves. Use gloves with knit cuffs for a secure fit.
Size
Glove
Size
XS
6
S
7
M
8
L
9
XL
10
Cotton
Weight

Lg.

Cuff
Style
Hemming
Color
Choose
a Size

Pkg.

Qty.

Pkg.

Cotton Fabric

Light
9"
Open
Unhemmed
White
12 Pairs
000000
00000
Light
14"
Open
Unhemmed
White
L
12 Pairs
000000
00000
Medium
8

1/2

"
Open
Unhemmed
White
12 Pairs
000000
00000
Heavy
8

1/2

"
Open
Unhemmed
White
12 Pairs
000000
00000

Nylon Fabric

__
8

1/4

"
Open
Hemmed
White
12 Pairs
0000000
00000
__
9

1/4

"
Knit
Unhemmed
White
L
5 Pairs
0000000
00000
Static Control Work Gloves