Hand-Driven

Tools for

Low-Profile

Rivet Nuts
Turn these tools by hand to install low-profile rivet nuts. The required mandrels are sold separately. To use, thread the nut onto a mandrel of the same size, then place it into a hole, push down on the tool's T-handle, and turn clockwise.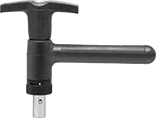 For Thread Size

For Rivet Nut
Body Type
For Rivet Nut Material
Overall


Lg.

Each
4-40, 6-32, 8-32, 10-24, 10-32, 12-24,

1/4

"-20,

1/4

"-28,

5/16

"-18,

5/16

"-24,

3/8

"-16,

3/8

"-24, M3, M4, M5, M6, M8, M10
Sleeve
18-8 Stainless Steel, Aluminum, Steel
5

7/8

"
000000000
000000
Hydraulic/Air-Powered

Rivet Nut Tools
Quickly install all styles of rivet nuts at 1.5-second intervals. The tool includes nosepiece assemblies to install M4, M5, M6, and M8 rivet nuts (additional sizes sold separately). To use, thread the nut onto the included mandrel and press the trigger to spin the nut onto the tool. Place the nut into the material and press the trigger to install the nut. Press the trigger one more time to spin the mandrel off.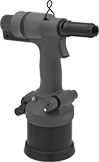 For
Thread
Size

For Rivet
Nut Body
Type
For Rivet
Nut
Material

Dia.

Wd.

Head


Lg.

Overall


Ht.

Max.


Stroke


Lg.

Pulling
Force
Operating


Pressure,


psi
Pipe
Size

Thread
Type

Weight,




lbs.

Each
8-32, 10-24, 10-32,

1/4

"-20,

5/16

"-18,

3/8

"-16, M4, M5, M6, M8, M10
Smooth, Ribbed, Hex, Bulbed, Sleeve, Stud
Aluminum, Steel
3

3/4

"
1

1/16

"
9

5/8

"
10

3/4

"
0.275"
3,960 lbs
75 to 100

1/4

NPT

3

1/2

000000000
000000000
Additional Nosepiece Assemblies