About Safety Ratings for Electrical Testing
Hand Tool Insulation Testers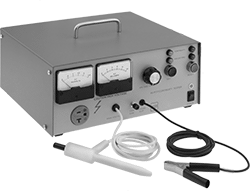 Ensure proper insulation and ground wire continuity in new or repaired drills, circular saws, grinders, and other hand tools. Also known as a hi-pot tester, it checks the quality of a tool's insulation by applying voltage and measuring how much current leaks from the tool.
The analog display works well for measuring rapidly changing values because you can see the magnitude and rate of change more easily than on a digital display.
The calibration certificate with test data is traceable to NIST and includes the test measurements that confirm the tester's accuracy.
Certification
Measures
Current Leak


Detection,


mA
Accuracy
AC Voltage
Insulation
Testing Selections
Tool
Connection
Specifications
Met
Includes
AC
Input
Voltage

Frequency,


Hz
Each
Calibration Certificate with Test Data
Resistance, AC Voltage, Continuity
1-10
3%
0-2,500
Three Prong Receptacle
UL Listed, UL 120K, CSA Certified
Ground Clip, High-Voltage Probe
120
60
0000000
000000000