Economy Electronic Outside Micrometers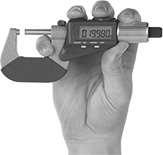 Right Hand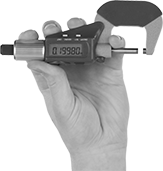 Inverted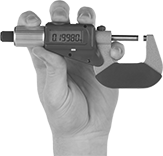 Left Hand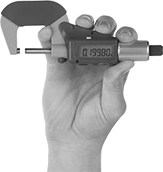 Reverse Inverted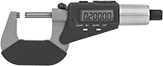 With Friction Thimble
These micrometers have a thimble with a constant-force mechanism, so that once the spindle contacts the surface of the measured object, it will stop tightening. This ensures repeatable measurements and prevents over-tightening. A speeder knob reduces the time it takes to open and close the micrometer.
Zero-position memory, also known as absolute (ABS) positioning, retains the measuring position when the micrometer is turned off. A zero-set button allows you to start measuring at any point.
On micrometers with a friction thimble, the thimble continues to turn with resistance when the spindle stops tightening. These micrometers have one digital display on each side, so they can be read in four different directions. They're good for left-handed users and for measuring items that are only accessible from above.
Inch
Metric
Inch
Metric
Inch
Metric
Throat


Dp.

Frame
Material
Number
of
Displays
Handedness
Batteries
Included
Environmental
Rating
Each

Friction Thimble

0"-1.2"
0 mm-30 mm
±0.00016"
±0.004 mm
0.00005"
0.001 mm
1"
Steel
2
Left, Right
Yes
IP54

0000000
0000000
| | | | |
| --- | --- | --- | --- |
| Replacement Battery (1/Pkg.) | 0000000 | Pkg. | 00000 |