How to

Identify and Measure Fittings
Pipe size is an industry designation, not the actual size. View information about how to measure threaded and unthreaded pipe and pipe fittings.
International Standard ISO A
Quick-Disconnect

Hose Couplings for Hydraulic Fluid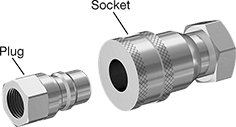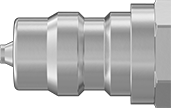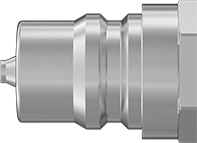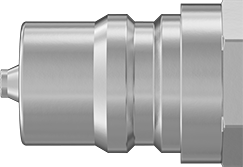 A complete coupling consists of a plug and a socket (both sold separately) that connect and disconnect quickly. Use them if you need frequent access to a hydraulic hose line. All of the International Standard ISO A quick-disconnect plugs are compatible with any of the International Standard ISO A quick-disconnect sockets of the same coupling size, regardless of the pipe size. Couplings meet ISO 7241-1 Series A dimensional and performance standards and are compatible with Aeroquip 5600 and Parker 6600 couplings. Also known as double shut-off couplings, the plugs and sockets both have a shut-off valve that stops the flow when the coupling is separated. They are zinc-plated steel, which is strong and durable with fair corrosion resistance.
Plugs are also known as nipples.
Sockets are sleeve-lock style. To connect, slide back the sleeve on the socket, insert the plug, and release the sleeve. To disconnect, slide back the sleeve and pull out the plug.
NPTF (Dryseal) threads are compatible with NPT threads.
Note: To ensure a correct fit, make sure that the plug and socket have the same coupling size. Pressure ratings are given for static (constant) pressure conditions.
Warning: Never attempt to connect or disconnect couplings when operating at maximum pressure. Stop the flow before you disconnect the line.
For technical drawings and 3-D models, click on a part number.
Plugs, NPTF Female Threaded Pipe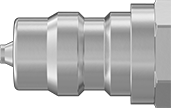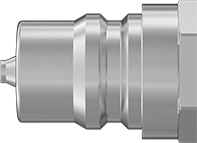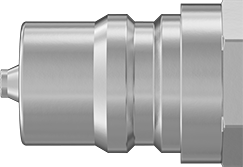 Maximum

Pressure:

See table
Maximum

Vacuum:

27

in.

of

Hg @

72° F

Temperature

Range:

-40° to 250° F

Compatible

With:

ISO

7241-1

Series

A,

Aeroquip

5600;

ISO

7241-1

Series

A,

Parker 6600

Specifications

Met:

ISO

7241-1

Series A
Sleeve-Lock Sockets, NPTF Female Threaded Pipe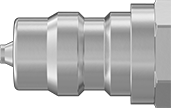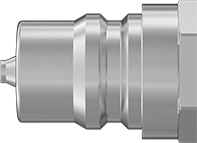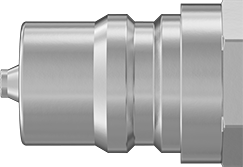 Maximum

Pressure:

See table
Maximum

Vacuum:

27

in.

of

Hg @

72° F

Temperature

Range:

-40° to 250° F

Compatible

With:

ISO

7241-1

Series

A,

Aeroquip

5600;

ISO

7241-1

Series

A,

Parker 6600

Specifications

Met:

ISO

7241-1

Series A
Coupling
Size

Lg.

Dia.

Pipe
Size

Dash
Size

Back-Up


Ring Material

Max.

Pressure
Each
Each

1/4

1/4

"

7/16

"

1/8

02
PTFE Plastic
5,000 psi @ 72° F
00000000
000000
00000000
00000

1/4

1/4

"

7/16

"

1/4

04
PTFE Plastic
5,000 psi @ 72° F
00000000
00000
00000000
0000

3/8

3/8

"

11/16

"

3/8

06
PTFE Plastic
4,000 psi @ 72° F
00000000
00000
00000000
0000

1/2

3/8

"

13/16

"

1/2

08
PTFE Plastic
4,000 psi @ 72° F
00000000
00000
000000
00

3/4

5/8

"
1

1/8

"

3/4

12
PTFE Plastic
4,000 psi @ 72° F
00000000
00000
00000000
0000
1

13/16

"
1

3/8

"
1

16
PTFE Plastic
4,000 psi @ 72° F
00000000
000000
00000000
00000