About AC to AC Voltage Transformers
For single-phase equipment, use this formula to find power output: VA = Volts × Amps
For three-phase equipment, use this formula to find power output: VA = Volts × Amps × 1.73
Enclosed Isolating AC to AC Transformers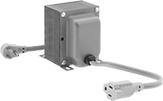 Single Phase with Plug and Socket

Single Phase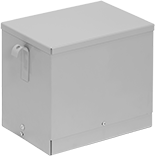 Three Phase
These transformers have isolated primary and secondary coils to protect your sensitive equipment from input voltage spikes.
Three phase transformers have Wye wiring for output voltage.
Sealed coils and cores prevent corrosion and insulation damage.
When wired as constant voltage transformers, they filter out voltage spikes and electrical noise.
Transformers that cannot be sold to California are restricted by local energy efficiency regulations.
Enclosed
Voltage-Stabilizing

AC to AC Transformers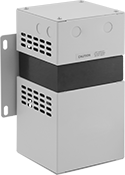 Protect sensitive equipment from electromagnetic interference and maintain power during three-millisecond power dips. These transformers also isolate output and input voltage (output regulation is ±3% with input voltage fluctuations from +10% to -20%). When wired for constant voltage, transformers filter out voltage spikes and electrical noise.
Input
Output
Power


Output,


VA

Ht.

Wd.

Dp.

Specifications
Met
Each

Single

Phase—

Screw Terminals Input and Output

Step

Up/Step

Down/Constant

Voltage

120V AC, 208V AC, 240V AC, 480V AC
120V AC, 208V AC, 240V AC
140
4.4"
6"
8

1/2

"
UL Listed, CSA Certified
0000000
0000000
120V AC, 208V AC, 240V AC, 480V AC
120V AC, 208V AC, 240V AC
250
4.4"
6"
9.7"
UL Listed, CSA Certified
0000000
000000
120V AC, 208V AC, 240V AC, 480V AC
120V AC, 208V AC, 240V AC
500
6

1/2

"
6.3"
12.3"
UL Listed, CSA Certified
0000000
000000
120V AC, 208V AC, 240V AC, 480V AC
120V AC, 208V AC, 240V AC
750
6

1/2

"
6.3"
13.3"
UL Listed, CSA Certified
0000000
00000000
120V AC, 208V AC, 240V AC, 480V AC
120V AC, 208V AC, 240V AC
1,000
6

1/2

"
6.3"
14.2"
UL Listed, CSA Certified
0000000
00000000
120V AC, 208V AC, 240V AC, 480V AC
120V AC, 208V AC, 240V AC
1,500
9.9"
9.4"
17.6"
UL Listed, CSA Certified
0000000
00000000
120V AC, 208V AC, 240V AC, 480V AC
120V AC, 208V AC, 240V AC
3,000
9.9"
9.4"
19.9"
UL Listed, CSA Certified
0000000
00000000