NPT Female
Pipe Outlet Connection

Slip-Joint
Outlet Connection
Use these J-bends as replacement parts for P-traps and S-traps.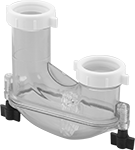 Loosen the knobs on this J-bend to clean it out without removing it from your pipe system. It has a removable screen that traps objects while allowing water to flow.
Slip-Joint


Outlet
Connection

OD
Inlet Connection
Type
Includes
Each

Clear Plastic

1

1/2

"
Slip Joint
1

1/4

" Washer Adapter, Slip-Joint Nuts and Washers
0000000
00000
Adjustable-Neck

Sink Drain Traps

Connect sink drains that are offset from wall drain outlets with this drain trap.
OD
Horizontal
Vertical
Inlet Connection
Type
Outlet
Connection
Type
Includes
Each

White Plastic

1

1/2

"
2

1/2

"
3

1/2

"
Slip Joint
Slip Joint
1

1/4

" Washer Adapter, Slip-Joint Nuts and Washers
000000
000000