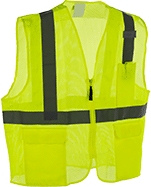 ANSI Class 2 with Single Stripe
(Standard)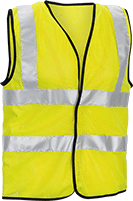 ANSI Class 2 with Double Stripe
(Standard)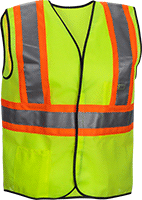 ANSI Class 2 with
Two-Tone
Single Stripe
(Standard)

Fluorescent Yellow
(Mesh)

Fluorescent Orange
(Mesh)
Bright colors and reflective stripes make workers stand out in high-risk areas and where low-visibility is a concern. Made of polyester fabric, these vests are lightweight and moisture wicking to keep you cool.
ANSI/ISEA 107 rated vests are fluorescent yellow or orange and have 2" wide reflective stripes to meet high-visibility requirements. Class 2 vests meet visibility requirements for workers who are on or near roadways.
Standard vests are a traditional, sleeveless style.
Mesh vests provide better breathability than solid vests.
Size
Chest
Size
S
32"/34"
M
36"/38"
L
40"/42"
XL
44"/46"
2XL
48"/50"
3XL
52"/54"
4XL
56"/58"
5XL
60"/62"
Material
Construction
Closure
Type
Specifications
Met
Color
Choose
a
Size
Each
Polyester Fabric
Mesh
Hook and Loop
ANSI/ISEA 107
Fluorescent Orange
0000000
00000
Polyester Fabric
Mesh
Zipper
ANSI/ISEA 107
Fluorescent Orange
0000000
00000

Two-Tone

Single Stripe

(Standard)

Polyester Fabric
Mesh
Zipper
ANSI/ISEA 107
Fluorescent Orange
0000000
00000