About Shaft Collars
Shaft collars are useful for holding and positioning components on a shaft. They can also serve as mechanical stops and stroke limiters.
About
Nuts,

Materials,

and Finishes
Low-Strength

Steel Thin Hex Nuts

Also known as jam nuts, these are about half the height of standard hex nuts. Use them in low-clearance applications or jam one against another nut to hold it in place. About half the strength of medium-strength steel thin nuts, use them for light duty fastening applications, such as securing access panels. Some of these screws meet ISO and DIN dimensional standards.
Nuts with fine and extra-fine thread spacing are less likely to loosen from vibration than nuts with coarse thread spacing.
Nuts that meet ISO 4035 (formerly DIN 439B) adhere to international standards for dimensions and material composition to ensure compatibility with other products and tools. Although the DIN 439B standards are no longer active, they are commonly referenced globally.
For technical drawings and 3-D models, click on a part number.
Bearing Retaining Jam Nuts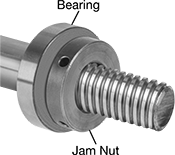 Used in pairs or with another bearing retaining nut, these jam nuts—often called shaft nuts—hold bearings, bushings, pulleys, and gears in place on your threaded shaft or spindle. Threading two nuts tightly against each other makes it harder for vibration to loosen your assembly than if you used only one nut. For the nut closer to the bearing, position the stepped face towards the bearing. These jam nuts have holes on the side, so you can tighten and loosen them with a pin spanner wrench. Made of carbon steel, they're strong and wear resistant. All meet DIN 1816, an international standard for bearing locknut dimensions.
For technical drawings and 3-D models, click on a part number.
Size

Pitch,


mm
Spacing

OD,


mm

Wd.,


mm
Specifications
Met
Each

Carbon Steel

Stepped Face

M52

1.5
Extra Fine

80
13
DIN 1816
0000000
000000