Quick-Clamp

Stainless Steel Bottles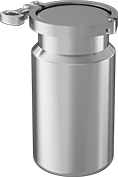 Fill these air-and liquid-tight bottles directly from your line to store, test, and ship liquids. Connect to a quick-clamp fitting (also known as tri-clamp) with the included seal and clamp to fill, then secure the contents with the lid. Bottles are 316L stainless steel, which is easy to clean and does not react to the acids and alkalies in food, or chemicals such as sulfuric acid. The extra-smooth interior is polished to prevent product buildup and inhibit bacteria growth. These bottles are engraved with lot numbers for traceability and include a material test report.
Capacity

Dia.

Ht.

Flange
OD
For
Tube
OD

Gauge,




ga.

Interior


Smoothness,


Ra
Seal
Material
Autoclavable
Passivation
Certification
Each

316L Stainless Steel Bottle and Lid

68 oz. / 2,000 ml
4

13/16

"
9"
4.682"
4"
18
10
Silicone Rubber
Yes
Passivated
Material Certificate with Traceable Lot Number and Test Report
0000000
000000000
Sterile Disposable Liquid Samplers
Sterilized so they won't contaminate your samples or lines, these liquid samplers are often used in food processing, pharmaceutical, and biotech applications. Unlike traditional sampling methods such as ladles and cups, they don't expose samples to the surrounding environment. These samplers use gravity to draw out liquid through the needle directly into the bottle or bag. The needle has a luer lock connection, so it's easy to remove the needle after you take the sample. You can also swap the needle out beforehand if your application needs a different kind.
Manufactured free of contaminants and allergens, all are BPA- and latex-free. They're also TSE/BSE compliant, so they've never come into contact with any animal products.
Bags are best for taking large samples. All are ISO 10993 compliant, so they're approved for use in medical devices. They meet USP Class VI, meaning they're made of plastic that's been tested to the highest standards to reduce the risk of leaching into biological samples.
All of these liquid samplers are typically used with sampling tube fittings.

Bag
Capacity,


ml

Ht.

Wd.

Thick.,


mil
ID
OD

Lg.,




ft.

Material
Gauge

Lg.

ID
OD
Material
Connection
Type
Color
Specifications
Met
Each

PVC Plastic

2,000
14"
7"
14

1/8

"

3/16

"
3
PVC Plastic
18
1

1/2

"
0.033"
0.05"
304 Stainless Steel
Luer Lock
Clear
ISO 10993, USP Class VI
0000000
00000