Retractable Key Holders

Retractable

Retractable
with Ball
Socket Lock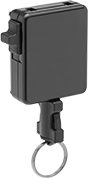 Retractable with Extension Lock
Extend keys from the holder when needed and a cable automatically retracts them when you're done. Key end swivels 360°.
Holders with a ball socket lock have a slit that allows the cable to be pulled out on the side or directly up, relieving stress on the cable. When the cable is fully retracted, the ball locks in place to prevent extension.
Holder with extension lock has a locking latch to keep the cable extended.
Key Holder Type
Extended


Lg.

Material

Dia.

Lg.

Wd.

Carabiner


Lg.

Strap


Lg.

Cable Material
Color
Each

Retractable

Belt Clip
24"
Steel
2

1/8

"
__
__
__
__
Stainless Steel
__
000000
000000
Belt Clip
36"
Plastic
__
1

1/2

"
1

1/4

"
__
__
Nylon Plastic
Black
0000000
0000
Belt Clip
48"
Steel
2

1/8

"
__
__
__
__
Stainless Steel
__
0000000
00000
Belt Loop
24"
Steel
2

1/8

"
__
__
__
__
Stainless Steel
__
000000
00000
Carabiner
36"
Plastic
__
1

1/2

"
1

1/4

"
1"
__
Nylon Plastic
Black
0000000
00000
Carabiner
48"
Plastic
2"
__
__
3

1/8

"
__
Kevlar
Black
0000000
00000
Strap
36"
Plastic
__
2"
1

1/2

"
__
3

5/8

"
Nylon Plastic
Black
0000000
00000

Retractable with Ball Socket Lock

Belt Clip
48"
Plastic
__
2

1/2

"
2

1/8

"
__
__
Kevlar
Black
0000000
00000
Belt Clip
48"
Plastic
__
2

3/4

"
2

3/8

"
__
__
Stainless Steel
Black
0000000
00000
Belt Loop
48"
Plastic
__
2

3/4

"
2

3/8

"
__
__
Stainless Steel
Black
0000000
00000

Retractable with Extension Lock

Rotating Belt Clip
42"
Plastic
__
2

5/8

"
2

1/4

"
__
__
Nylon Plastic
Black
000000
00000