Weather-Resistant

Key-Fob

Padlocks
These padlocks won't corrode when exposed to harsh weather and open with a magnetic key fob instead of a traditional key or combination, so they can't be picked. Tap the key fob on the front of the padlock's body and pull the body away from the shackle to unlock. All padlocks have a brass body and a removable shackle, which lets you replace a shackle if it's damaged, or swap it out for a different vertical clearance or material.
Stainless steel shackles are more corrosion resistant than boron alloy shackles. They are not, however, as cut resistant.
Boron alloy shackles are harder to cut than stainless steel shackles, but are not as corrosion resistant.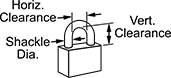 Vertical
Clearance
Horizontal
Clearance
Diameter
Height
Width
Thickness
Each

One Key Included

Solid Brass Body with Stainless Steel Shackle

1

3/16

"
1

3/8

"

5/16

"
2

1/2

"
2

1/4

"

3/4

"
00000000
000000
2

3/4

"
1

3/8

"

5/16

"
2

1/2

"
2

1/4

"

3/4

"
00000000
00000

Solid Brass Body with Boron Alloy Shackle

1

3/16

"
1

3/8

"

5/16

"
2

1/2

"
2

1/4

"

3/4

"
00000000
00000
2

3/4

"
1

3/8

"

5/16

"
2

1/2

"
2

1/4

"

3/4

"
00000000
00000

Two Keys Included

Solid Brass Body with Stainless Steel Shackle

1

3/16

"
1

3/8

"

5/16

"
2

1/2

"
2

1/4

"

3/4

"
00000000
00000
2

3/4

"
1

3/8

"

5/16

"
2

1/2

"
2

1/4

"

3/4

"
00000000
000000

Solid Brass Body with Boron Alloy Shackle

1

3/16

"
1

3/8

"

5/16

"
2

1/2

"
2

1/4

"

3/4

"
00000000
00000
2

3/4

"
1

3/8

"

5/16

"
2

1/2

"
2

1/4

"

3/4

"
00000000
00000