Keyboard Trays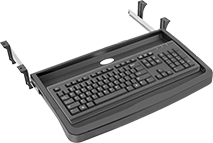 A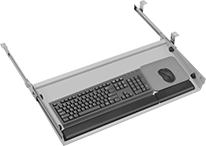 B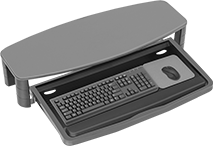 C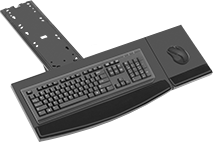 D
Adjustability
Material

Ht.

Wd.

Dp.

Mounting
Hardware Included
Each

Trays

A
In/Out
Plastic
1

3/8

"
20

1/2

"
12"
Yes
00000000
000000
B
In/Out
Steel
3

1/8

"
25

1/2

"
16

1/8

"
Yes
00000000
000000

Trays with Padded Wrist

Rest,

Space for Mouse

Pad,

and Monitor Stand

C
In/Out
Plastic
3

1/4

"
30

5/8

"
13

3/4

"
Yes
00000000
00000

Trays with Padded Wrist Rest and Space for Mouse Pad

B
In/Out, Up/Down
Steel
5"
33

1/8

"
16"
Yes
00000000
000000
D
In/Out, Up/Down, Swivel, Tilt
Wood

3/4

"
28"
12

1/2

"
Yes
00000000
000000
Wireless Keyboards
No need to wrangle cords—you can move these keyboards freely around your work space.
Ergonomic keyboards position your hands for improved comfort.
Use hand-held keyboards to control computers from up to 65 feet away. They have an integrated trackpad, so you don't need a separate mouse.
Liquid-resistant keyboards stand up to coffee, water, soda, and other spills.
Foldable Keyboards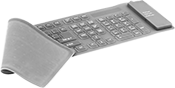 This flexible keyboard is easy to transport and resists dust and water.
Connection Type

Wd.

Dp.

Material
Color
Each
6 Pin Mini DIN, USB
19

1/4

"
5

1/4

"
Plastic
Blue
000000
000000
Washdown Keyboards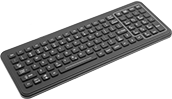 This keyboard has a rubber keypad and polycarbonate case so it's corrosion resistant and waterproof.
Connection Type

Wd.

Dp.

Color
Environmental
Rating
Each
4-pin USB Type A (Male)
14

7/8

"
5

7/8

"
Black
IP65, NEMA 4X
00000000
0000000
Keyboards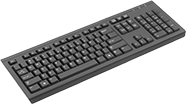 Keyboard
Tabletop
Sit-Stand

Workstations
Change any desk or table into a stand-up-height work surface. Raise and lower these workstations with a lever—you don't need to clear the surface to adjust the height. The air cylinder makes adjustments smooth and even. To keep wrists comfortable while working and typing, these workstations have chamfered edges.
For a comfortable computer setup, use workstations with a keyboard tray. The tray has space for a keyboard and mouse, and the monitor platform is wide enough for two standard monitors. Organize your cords using cutouts at the back of the keyboard tray.
Workstations with Keyboard Tray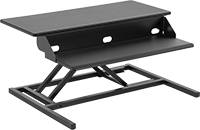 Workstation with Keyboard Tray

Black

Light Brown Woodgrain

White
Wd.

Dp.

Ht.

Work
Surface
Style

Wd.

Dp.

Cap.,




lbs.

Wd.

Dp.

Material
Color
Adjustment
Type
Assembled
or
Unassembled
Features
Each

Black Plastic Laminate Monitor Platform

32"
23

1/2

"
5

1/4

"-15

1/2

"
Flat
32"
13

3/4

"
35
27

3/4

"
9

3/4

"
Powder-Coated Steel
Black
Lever
Assembled
Air Cylinder, Cutouts for Routing Cords
0000000
0000000

Light Brown Woodgrain Plastic Laminate Monitor Platform

32"
23

1/2

"
5

1/4

"-15

1/2

"
Flat
32"
13

3/4

"
35
27

3/4

"
9

3/4

"
Powder-Coated Steel
Black
Lever
Assembled
Air Cylinder, Cutouts for Routing Cords
0000000
000000

White Plastic Laminate Monitor Platform

32"
23

1/2

"
5

1/4

"-15

1/2

"
Flat
32"
13

3/4

"
35
27

3/4

"
9

3/4

"
Powder-Coated Steel
White
Lever
Assembled
Air Cylinder, Cutouts for Routing Cords
0000000
000000