Keyboard Trays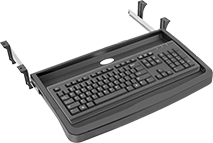 A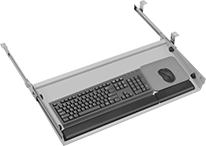 B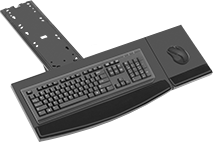 C
Adjustability
Material

Ht.

Wd.

Dp.

Mounting
Hardware Included
Each

Trays

A
In/Out
Plastic
1

3/8

"
20

1/2

"
12"
Yes
00000000
000000
B
In/Out
Steel
3

1/8

"
25

1/2

"
16

1/8

"
Yes
00000000
000000

Trays with Padded Wrist Rest and Space for Mouse Pad

B
In/Out, Up/Down
Steel
5"
33

1/8

"
16"
Yes
00000000
000000
C
In/Out, Up/Down, Swivel, Tilt
Wood

3/4

"
28"
12

1/2

"
Yes
00000000
000000
Heavy Duty Positioning Arms
Heavy duty construction adds strength for higher load capacities than other positioning arms. Choose a complete arm or select a base, connectors, and plate, bracket, or tray to build a complete arm. The load capacity of an assembled arm is determined by the component with the lowest capacity.
For technical drawings and 3-D models, click on a part number.
Flat-Panel Monitor Mounting Plates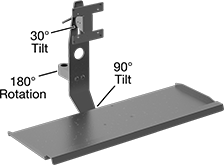 Flat-Panel
Monitor Mounting Plate with Keyboard Tray
Flat-panel monitor mounting plates have a VESA (Video Electronics Standards Association) standard mounting-hole pattern.
Keyboard trays hold a computer keyboard and mouse.
To see the product in motion, click on a part number.
Lg.

Wd.

Ht.

For
Pin


Dia.

Max.

Load


Capacity,




lbs.

Material
Color
Fasteners
Included
Number
of
Holes
Hole


Dia.

Hole
Pattern
Compatibility
Plate


Lg.

Plate


Wd.

Each

Flat-Panel

Monitor Mounting Plate with Keyboard Tray

17

1/4

"
25

1/4

"
16

1/2

"

7/8

"
25
Powder-Coated Steel
Black
Yes
8

7/32

"
VESA 100, VESA 75
4

1/2

"
4

1/2

"
0000000
0000000
Tabletop
Sit-Stand

Workstations
Change any desk or table into a stand-up-height work surface. Raise and lower these workstations with a lever—you don't need to clear the surface to adjust the height. The air cylinder makes adjustments smooth and even. To keep wrists comfortable while working and typing, these workstations have chamfered edges.
For a comfortable computer setup, use workstations with a keyboard tray. The tray has space for a keyboard and mouse, and the monitor platform is wide enough for two standard monitors. Organize your cords using cutouts at the back of the keyboard tray.
Workstations with Keyboard Tray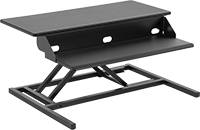 Workstation with Keyboard Tray

Black

Light Brown Woodgrain

White
Wd.

Dp.

Ht.

Work
Surface
Style

Wd.

Dp.

Cap.,




lbs.

Wd.

Dp.

Material
Color
Adjustment
Type
Assembled
or
Unassembled
Features
Each

Black Plastic Laminate Monitor Platform

32"
23

1/2

"
5

1/4

"-15

1/2

"
Flat
32"
13

3/4

"
35
27

3/4

"
9

3/4

"
Powder-Coated Steel
Black
Lever
Assembled
Air Cylinder, Cutouts for Routing Cords
0000000
0000000

Light Brown Woodgrain Plastic Laminate Monitor Platform

32"
23

1/2

"
5

1/4

"-15

1/2

"
Flat
32"
13

3/4

"
35
27

3/4

"
9

3/4

"
Powder-Coated Steel
Black
Lever
Assembled
Air Cylinder, Cutouts for Routing Cords
0000000
000000

White Plastic Laminate Monitor Platform

32"
23

1/2

"
5

1/4

"-15

1/2

"
Flat
32"
13

3/4

"
35
27

3/4

"
9

3/4

"
Powder-Coated Steel
White
Lever
Assembled
Air Cylinder, Cutouts for Routing Cords
0000000
000000