Machine Key Stock

Cut this square or rectangular key stock to length to create a straight machine key. Straight keys are the most common type of key. Machine keys are often the same material and as hard or harder than the shaft and other components with which they are used. To use a key as a sacrificial part, choose a softer key that will shear off when parts are exposed to excessive force, preventing damage to expensive equipment.
Steel key stock is an economical choice with good strength. Zinc-plated steel key stock resists corrosion in wet environments.
Slightly larger than the size listed in the table, oversized stock fits tightly in a keyway. Press it into place for use in high-torque applications or to replace a key in a worn keyway.
For technical drawings and 3-D models, click on a part number.
Zinc-Plated 1018-1045 Carbon Steel
Ht.

×

Wd.

Tolerance
Rating

Ht.

Wd.

Minimum
Hardness
Each

13/16

" ×

13/16

"
Oversized
0.000" to 0.003"
0.000" to 0.003"
Rockwell B50
000000000
000000
Fixture Keys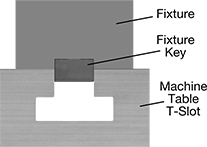 Rectangular
Sized to fit with precision in machine table T-slots, use these keys to locate fixtures and vises on your machine table. They mount to the underside of your fixture or vise with a socket head cap screw.
For technical drawings and 3-D models, click on a part number.
For Machine
Table

T-Slot

Wd.

Lg.

Wd.

Ht.

Wd.

Tolerance
For Mounting
Screw Size

Mounting
Fasteners Included
Material
Each

Rectangular

13/16

"
1

1/4

"

13/16

"

1/2

"
-0.0005" to 0"

5/16

"

No
Steel
000000
00000