Laboratory Jacks
Stand with Support Rod and Control Handle
(Both Sold Separately)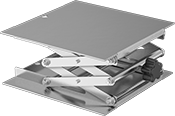 These jacks are often used to position small shop and laboratory equipment.
Attach a support rod to jacks with a 6" Lg.×6" Wd. head or larger to mount items, such as temperature probes, thermometer clamps, or flask and column clamps.
Ratcheting control handles replace the knob on jacks with a 12" Lg.×12" Wd. head or larger for easier height adjustments.
For technical drawings and 3-D models, click on a part number.
Ratcheting
Control
Handles

Max.

Load


Capacity,

lbs.

Ht.

Lg.

Wd.

Material
Each
Each
Each
100
2

1/2

"-5"
3"
3"
Stainless Steel
0000000
0000000
000000
00
000000
00
100
2

1/2

"-5"
4"
4"
Stainless Steel
0000000
000000
000000
00
000000
00
100
4"-19

1/2

"
12"
12"
Stainless Steel
0000000
000000
000000
000000
0000000
000000
100
4"-19

1/2

"
16"
16"
Stainless Steel
0000000
00000000
000000
00000
0000000
00000
133
3"-9

3/4

"
6"
6"
Stainless Steel
0000000
000000
000000
00000
000000
00
227
3

1/2

"-13"
8"
8"
Stainless Steel
0000000
000000
000000
00000
000000
00
247
3

1/2

"-13"
10"
10"
Stainless Steel
0000000
000000
000000
00000
000000
00