Standoffs for Ladders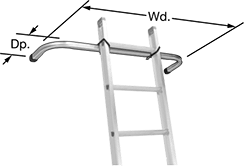 Secure ladders at a comfortable distance from a supporting surface. Standoffs have protective tips to prevent scuffs and scrapes. For use on flat surfaces.
Adjustable standoffs allow you to change the distance between your ladder and the supporting surface in 2" increments.
Stabilizing Anchors for Ladders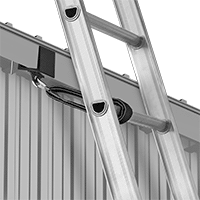 B
Secure your ladder to a fixed structure to keep it stable.
Style B anchor the ladder to the eave of a roof. Clamp the bracket to the roof eave, clip the included hook and loop strap to the bracket, and wrap the strap around a ladder rung to pull it tight.
Style
Strap


Lg.,

ft.

Strap Material
Features
Each
B
4
Nylon Fabric
Aluminum Bracket with 2

1/4

" Max. Jaw Opening, Two Hook and Loop Straps
0000000
000000
Cable Hooks for Ladders

Attach these hooks to keep your ladder stable on cable and wire rope.
For Rail
Material
Material
Pair
Fiberglass
Aluminum
00000000
000000