Weed and Grass Trimmers
The trimmer line feeds automatically for continuous cutting—no bumping or spool adjustment necessary. This trimmer can also be used as an edger. It cannot be sold to Canada due to local energy efficiency requirements.
Weed and Grass Trimmer Line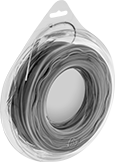 Trimmer line for Black and Decker comes spooled, eliminating the need to hand wind the line.
Dia.

Color
For Manufacturer
For Manufacturer
Model Number

Lg.,




ft.

Each
0.065"
Blue
Any
__
605
0000000
000000
0.065"
White
Black & Decker
CST1000, CST1200, CST2000, GH400, GH500, GH600, GH610, GH900, GH912, LST136, LST220, LST300, LST400, LST420, MTC220, MTE912, NST1118, NST2018, NST2118, ST6600, ST7000, ST7700
30
0000000
0000
0.08"
Green
Any
__
200
0000000
0000
0.095"
Orange
Any
__
285
0000000
00000
0.105"
Red
Any
__
235
0000000
00000