Flexible Polyethylene
(LDPE)

Film
Color:

Semi-Clear White or Opaque Black
Temperature

Range:

-60° to 150° F

Tensile

Strength:

1,400-3,

190 psi

(Poor)

Impact

Strength:

No Break

(Excellent)

Hardness:

Durometer

41D-46D

(Medium

Soft)

For Use

Outdoors:

Yes
Specifications

Met:

ASTM D4397
Often used for packaging and construction applications, this LDPE film is also known as Visqueen. It is softer and more flexible than other types of film and offers superior impact resistance.
Reinforced Flexible Polyethylene
(LDPE)

Film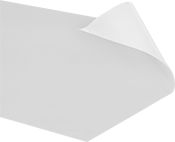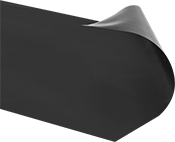 Color:

Semi-Clear White or Opaque Black
Temperature

Range:

Not Rated
Tensile

Strength:

Not Rated
Impact

Strength:

Not Rated

Hardness:

Not Rated

For Use

Outdoors:

Yes
A polyester string reinforcement gives this material better tear resistance than standard LDPE film. It is often used as window coverings, construction film, and vapor barriers.