Mailboxes
Send, receive, or collect mail or packages at your facility with these USPS (United States Postal Service) approved mailboxes. Made of powder-coated aluminum, they won't corrode when exposed to harsh weather. All have a front door that individuals and mail carriers can open at any time to drop off or pick up mail. To alert mail carriers that these mailboxes contain outgoing mail, flip the red signal flag up.
Style A mailboxes have a durable cast-aluminum door with a magnetic door catch, which keeps the door closed to protect the contents from dirt, dust, rain, and snow.
Style B and C mailboxes have two mail compartments—one that is unlocked for access to outgoing mail and the other that locks to keep contents safe from theft. The locked compartment can be opened from either the front or back of the mailbox. An overhanging top keeps the contents protected from dirt, dust, rain, or snow when the compartment doors are open.
Use posts to securely mount mailboxes into the ground or concrete. They're made of powder-coated aluminum, to stand up to harsh weather. All have a top mounting plate for attaching a mailbox.
For in-ground posts, dig a hole, set the post in the hole, and then fill the hole with concrete.
For bolt-mounted posts, secure the bottom mounting plate of the post to concrete with an anchor kit (sold separately). When mounting to existing concrete, a stud anchor kit is required. For mounting to new concrete, a J-hook anchor kit is required.
Drop Boxes
Create a drop-off spot for documents and other small items.
Aluminum and powder-coated steel boxes are corrosion resistant. Powder-coated steel boxes are enclosed for outdoor use.
Plastic boxes have a clear sliding panel on the back for retrieving forms.
Mount screw-in boxes to the wall to save space. Screw-in boxes with a 5-in. opening can also be placed upright on a table or counter.
Boxes with a lock store deposits in a secure department, keeping them especially safe from theft. Floor-mount boxes have a drop door with a larger opening than other boxes, so they can receive packages in addition to smaller items.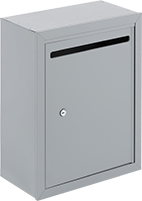 Aluminum Box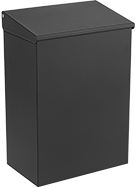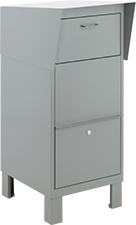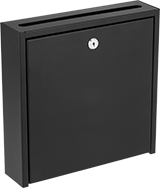 Screw-In
Steel Box with Lock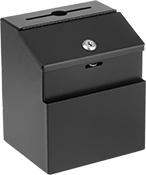 Freestanding Steel Box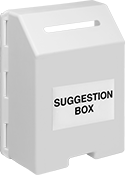 Screw-In
Plastic Box
(Shown with Label)
Wd.

Dp.

Wd.

Dp.

Ht.

Wd.

Dp.

Color
Mounting
Fasteners
Included

No.


of

Dia.

For
Use
Outdoors
Features
Includes
Each

Aluminum

Screw In

11

1/2

"

3/4

"
__
__
19"
15"
7

1/2

"
__
No
4

1/2

"
No
Lock
Two Keys
00000000
0000000

Screw In

__
__
10

1/2

"
6

1/2

"
15

1/2

"
10

1/2

"
6

1/2

"
Black
No
4

1/4

"
Yes
Lid
__
00000000
00000

Floor Mount

15

3/4

"
7"
__
__
49"
20"
26"
Blue
No
4

1/2

"
Yes
Drop Door, Lock
Three Keys
00000000
00000000
15

3/4

"
7"
__
__
49"
20"
26"
Gray
No
4

1/2

"
Yes
Drop Door, Lock
Three Keys
00000000
00000000

Steel

Screw In

10

1/2

"

3/4

"
__
__
12"
12"
3"
Black
Yes
__
__
No
Lock
Two Keys
0000000
00000

Freestanding

4

3/4

"

1/8

"
__
__
8

1/2

"
7

1/4

"
6"
Black
Yes
__
__
No
Front Pocket, Lock
Labels, Suggestion Cards, Two Keys
0000000
00000

Plastic

Screw In

5"

1/2

"
__
__
11"
8

1/2

"
4

1/2

"
White
No
2

1/4

"
No
Clear Back Panel
__
0000000
00000