Life Preserver Rings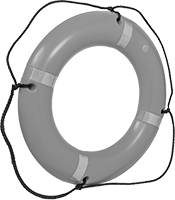 Throw floatation rings into the water for emergency rescues. They include 10 feet of floating rope to pull swimmers in. They are United States Coast Guard Approved Type IV for buoyant throwable devices. Made of polyethylene, these rings resist oil and common chemicals. They are international safety orange with reflective panels to draw attention.
United States
Coast Guard
Approval
Material
OD
Includes
Features
Color
Each
Type IV
Polyethylene Plastic
30"
10-ft. Floating Polypropylene Rope
Reflective Tape Panels
Orange
000000
000000
Life Vests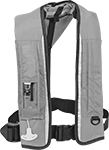 Inflatable Nylon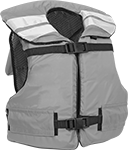 Nylon and Polyester Mesh with Flotation Collar
Work safely near the water. These vests are international safety orange with reflective tape panels to draw attention to workers in low-visibility environments.
Vests are United States Coast Guard approved for use as safety equipment. Type V vests are specifically approved for commercial work away from shore and must be worn at all times to meet USCG approval when working.
Nylon and polyester mesh with flotation collar vests keep the wearer's head above the water until help arrives. They have a tough nylon shell and a breathable polyester mesh liner to keep workers cool and comfortable. An adjustable waist belt buckles in the front and is concealed to reduce the risk of catching on equipment.
Inflatable vests have a CO2 cylinder that will automatically inflate the vest when submerged in water. They have a pull cord and tube to inflate manually. These vests are lightweight with a single buckle, so they're easy to move around in.
United States
Coast Guard
Approval
Closure
Type
Includes
Features
Color
Size
Each

Nylon Fabric and Polyester Mesh with Flotation Collar

Type V
Buckle
__
Reflective Tape Panels, Mesh Lining
Orange
One Size
000000
000000

Inflatable Nylon Fabric

Type V
Buckle
CO2 Inflation Cartridge
Reflective Tape Panels
Orange
One Size
000000
000000
| | | | |
| --- | --- | --- | --- |
| Reload Kit for Inflatable Life Vests | 0000000 | Each | 000000 |