Lift Truck Backup Alarms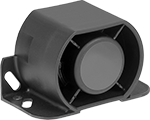 A

B
These alarms beep loudly and repeatedly when a vehicle moves in reverse. Wire them between the vehicle's battery and reverse lights. Alarms are resistant to vibration, dust, and moisture.
Alarm with automatic volume control detects the sound level around a vehicle and sets the alarm volume 5 dBA above that level.
Optional backup alarm switch activates the alarm when you shift into reverse, so you can use the alarm on a vehicle without backup lights.
Voltage

Current,


A
Volume

Ht.

Wd.

Dp.

Material
Mount
Type

No.


of
Terminals

No.

of
Wire
Leads
Wire
Connection
Type

No.


of

Wd.

For
Use
Outdoors
Specifications
Met
Each

Automatic Volume Control

A
12V DC-48V DC
0.2
82-102 dBA @ 4 ft.
3"
5"
2

7/8

"
Fiberglass
Surface
__
2
Wire Leads
4

5/16

"
Yes
UL Recognized Component
0000000
0000000

Fixed Volume Control

A
12V DC-36V DC
0.4
107 dBA @ 4 ft.
3"
5"
2

7/8

"
Fiberglass
Surface
__
2
Wire Leads
4

5/16

"
Yes
UL Recognized Component
00000000
00000
B
12V DC
0.2
97 dBA @ 4 ft.
2

7/8

"
4"
1

5/8

"
Fiberglass
Surface
2
__
Screw Terminals
4

5/16

"
Yes
UL Recognized Component
00000000
00000
B
12V DC-48V DC
0.1
97 dBA @ 4 ft.
2

7/8

"
4"
1

5/8

"
Fiberglass
Surface
2
__
Screw Terminals
4

5/16

"
Yes
UL Recognized Component
00000000
00000
| | | | |
| --- | --- | --- | --- |
| Optional Backup Alarm Switch | 00000000 | Each | 000000 |