Metal Halide Light Bulbs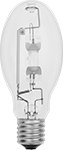 Cone Bulb with E26 or E39 Base

Medium
(Standard Household)
Illuminate large warehouses, factories, and arenas with the bright, white light of these metal halide bulbs. Brightness is measured in lumens; the higher the lumens, the brighter the bulb. Color rendering index (CRI) is a measurement on a scale of 0-100 of how accurately the light from a bulb represents an object's true colors; the higher the number, the more natural the colors appear. Any CRI value over 80 will show colors true to life. A bulb's estimated yearly cost is based on 3 hours of usage per day at $0.11 per kWh.
Pulse-start bulbs restart nearly twice as fast as probe-start bulbs.
Bulbs that cannot be sold to Canada exceed local regulatory limits on mercury.
Wattage
Light
Appearance

Brightness,


lumens
Bulb
Shape


No.

Operating
Position
CRI
For
Ballast
ANSI

No.

Start
Type
Bulb
Material
Rated


Life,




hrs.

Est.

Yearly
Energy


Cost, $

Bulb


Dia.

O'all




Lg.

Cannot
Be
Sold To
Each

For Enclosed Fixtures

Cone

Bulb—

E26 Medium

(Standard Household)

Base

(1 1/16" Dia.)

50W
Warm (3,000K)
3,450
E17
Base Up, Base Down, Horizontal
70
M110
Pulse
Glass
20,000
6.02
2

1/8

"
5

7/16

"
Canada
0000000
000000
70W
Warm (3,000K)
5,200
E17
Base Up, Base Down, Horizontal
75
M98
Pulse
Glass
15,000
8.43
2

1/8

"
5

7/16

"
Canada
0000000
00000
150W
Warm (3,000K)
12,900
E17
Base Up, Base Down, Horizontal
75
M102
Probe
Glass
15,000
18.07
2

1/8

"
5

7/16

"
Canada
0000000
00000
175W
Neutral (3,600K)
13,000
E17
Base Up, Base Down, Horizontal
70
M57
Probe
Glass
10,000
21.08
2

1/8

"
5

7/16

"
Canada
0000000
00000