Screw-In

Base Light Bulbs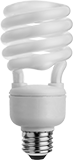 Spiral

Medium
(Standard Household)
Use these bulbs in standard sockets, panels, and appliances. Brightness is measured in lumens; the higher the lumens, the brighter the bulb. Bulbs with a warm light appearance have yellow tones. Bulbs with a neutral light appearance are commonly used in workspaces. Bulbs with a cool light appearance have white/blue tones and are good for inspecting. A bulb's estimated yearly energy cost is based on 3 hours of usage per day at $0.11 per kWh.
CFL (compact fluorescent) bulbs are more energy efficient and last longer than halogen bulbs. It takes several seconds for them to reach full brightness. They contain small amounts of mercury (for disposal information, visit www.epa.gov/cfl).
Bulbs that cannot be sold to the listed regions do not meet energy efficiency and/or mercury regulations.
Equiv.




Incand.


Bulb Wattage
Light
Appearance

Brightness,


lumens
Light
Technology
Light
Setting
Bulb
Material
Color
Wattage
Rated


Life,




hrs.

Est.

Yearly
Energy


Cost, $

Cannot
Be
Sold To

Pkg.




Qty.

Pkg.

Spiral

Bulb—

Medium

(Standard Household)

Base

(1 1/16" Dia.)

120V

500W
Cool (6,500K)
6,400
CFL
Not Dimmable
Glass
Frosted
105W
7,600
12.70
Canada, MA
1
0000000
000000
500W
Cool (6,500K)
6,400
CFL
Not Dimmable
Glass
Frosted
105W
7,600
12.70
Canada, MA
6
00000000
000000