Screw-In

Base Floodlight Bulbs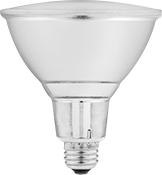 PAR38

Medium
(Standard Household)
Often used in recessed can fixtures and track lighting, these bulbs produce a focused beam of light. Brightness is measured in lumens; the higher the lumens, the brighter the bulb. Bulbs with a warm light appearance have yellow tones. Bulbs with a neutral light appearance are commonly used in workspaces. Bulbs with a cool light appearance have white/blue tones and are good for inspecting. A bulb's estimated yearly energy cost is based on 3 hours of usage per day at $0.11 per kWh.
PAR bulbs have narrow beam angles that provide more focused beams of light than other floodlights. A short length allows them to fit in small can fixtures without protruding.
LED bulbs last longer and are more efficient than other technologies. They generate little heat and withstand vibration. Plastic LED bulbs are shatterproof.
Equiv.




Incand.


Bulb Wattage
Light
Appearance

Brightness,


lumens
Beam
Angle
Light
Technology
Bulb
Material
Color
Wattage
Rated


Life,




hrs.

Est.

Yearly
Energy


Cost,

$
Bulb


Dia.

O'all




Lg.

Pkg.




Qty.

Pkg.

PAR38

Bulb—

Medium

(Standard Household)

Base

(1 1/16" Dia.)

120V

90W
Warm (3,000K)
1,000
40°
LED
Plastic
Frosted
11.1W
25,000
1.34
4

3/4

"
5"
1
0000000
000000
90W
Warm (3,000K)
1,000
40°
LED
Plastic
Frosted
11.1W
25,000
1.34
4

3/4

"
5"
12
00000000
000000
90W
Cool (5,000K)
1,000
40°
LED
Plastic
Frosted
11.1W
25,000
1.34
4

3/4

"
5"
2
0000000
00000
90W
Cool (5,000K)
1,000
40°
LED
Plastic
Frosted
11.1W
25,000
1.34
4

3/4

"
5"
12
0000000
000000