LED Light

Bulbs for

High-Intensity

Discharge

(HID)

Lights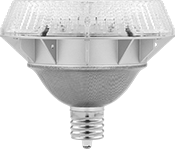 Flat Top Bulb with EX39 Base

Mogul
Replace high-intensity discharge (HID) lights with the longer-lasting, energy-efficient LEDs. Brightness is measured in lumens; the higher the lumens, the brighter the bulb. LED lights are perceived as brighter at night than high-intensity discharge light technologies, so they require fewer lumens to provide the same brightness. Match your old light's wattage to find the right LED bulb. A bulb's estimated yearly cost is based on 3 hours of usage per day at $0.11 per kWh.
Plug socket-ready bulbs into an existing fixture with a compatible ballast.
Ballast bypass bulbs eliminate the need for a ballast, so the socket must be wired directly to the power source.
Metal
Halide

High-Pressure


Sodium
Mercury
Vapor
Light
Appearance

Brightness,


lumens
Operating
Position
For Magnetic
Ballast
ANSI

No.

Bulb


Dia.

O'all




Lg.

Wattage
Rated


Life,




hrs.

Est.

Yearly
Energy


Cost,

$
Specifications
Met
Each

Socket Ready

Flat Top

Bulb—

EX39 Mogul Base

400W
__
__
Neutral (4,000K)
16,000
Base Up, Base Down, Horizontal
M59, M132, M135, M154, M155
9"
9

1/4

"
140W
50,000
16.86
UL Listed, C-UL Listed

000000
0000000

Ballast Bypass

Flat Top

Bulb—

EX39 Mogul Base

400W
400W
400W
Neutral (4,000K)
19,200
Base Up
__
8

11/16

"
10

1/2

"
140W
50,000
16.86
UL Listed, C-UL Listed

0000000
000000