With Kevlar-reinforced nylon armor and a high-strength aluminum connector, these USB cords stand up to frequent use and bending better than standard USB cords. Use them to move data between computers, printers, and mobile devices in places where cords may be dropped, pulled, and bent in odd directions. These cords also withstand heat and have a long, flexible strain relief for extra durability where the cable meets the connector. Cords with a higher USB standard transmit data faster than cords with a lower USB standard. Backward compatible, all work with cords and connectors that meet the same or a lower USB standard.
MFi-certified cords are compatible with Apple devices.
Connect devices such as computers, printers, and mobile devices. The higher the USB standard, the faster cords can transmit data. These cords are backward compatible, so they work with cords and connectors that meet the same or lower USB standard.
Use power cords to charge devices. Data cords move data between devices.
Double-shielded cords block signal interference from nearby equipment and devices.
A Plug × Micro-B Plug, C Plug, and Two Apple-Compatible Plugs

A Plug ×
Micro-B
Plug,
C
Plug,
and Two
Apple-Compatible
Plugs
C Plug × Apple-Compatible Plug

C Plug ×
8-Pin
Apple-Compatible
Plug
8 Pin




Apple-Compatible




(White)

Lg.,




ft.

Application
USB
Standard
Features
Each

Unshielded

3
Data/Power
2.0
Fast Charging
0000000
000000
Lightning Protection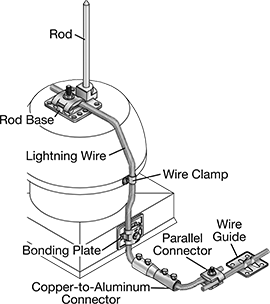 Protect electrical systems from lightning strikes on structures up to seventy-five feet tall. When replacing or adding components to an existing system, choose components that match your existing material. For a new system, choose components of the same material.
Rod bases can be mounted horizontally or vertically.
Wire clamps fold around the wire.
Bonding plates electrically bond your system to a metallic object.
Parallel connectors accept lightning wire and rods.
Joint compounds are recommended for use in corrosive environments. Apply at connection points.