High-Temperature

Casting Compounds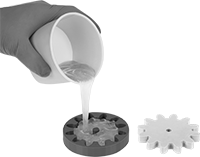 Capture intricate details when creating prototypes, molds, and linings with these easy-to-mix compounds.
Alumina is high strength.
High-purity alumina resists shrinking in casts, has a low level of contamination, and is a strong electrical insulator. It's often used for constructing furnaces and handling liquid metal.
Silicon carbide has a high heat transfer rate, making it ideal for use in metal casting molds. It has the added benefit of excellent erosion and oxidation resistance.
Silica withstands rapid changes in temperature without cracking and has a low rate of thermal expansion.
Zirconium oxide is often used in metal handling applications. In addition to its high temperature resistance, it's also chemical resistant.
View our selection of release agents.
Time to
Harden
Time
to Cure
Time to
Demold
Cure


Temperature,

°F

Max.




Temperature,




°F

Shrinkage
Color
Mixing
Required

Volume,




cu.




in.

Weight,




lbs.

Each

Alumina

20 min.
24 hrs.
24 hrs.
77°
3000°
1%
White
Yes
38
4
0000000
000000
20 min.
24 hrs.
24 hrs.
77°
3000°
1%
White
Yes
96
10
0000000
000000
25 min.
24 hrs.
24 hrs.
77°
3200°
1.3%
White
Yes
98
10
0000000
000000

Silicon Carbide

20 min.
24 hrs.
24 hrs.
77°
2700°
1.5%
Black
Yes
47
4
0000000
00000
20 min.
24 hrs.
24 hrs.
77°
2700°
1.5%
Black
Yes
119
10
0000000
000000

Silica

20 min.
24 hrs.
24 hrs.
77°
2700°
1.3%
White
Yes
62
4
0000000
00000
20 min.
24 hrs.
24 hrs.
77°
2700°
1.3%
White
Yes
155
10
0000000
000000

Zirconium Oxide

20 min.
24 hrs.
24 hrs.
77°
4000°
1%
Beige
Yes
27
4
0000000
000000
20 min.
24 hrs.
24 hrs.
77°
4000°
1%
Beige
Yes
69
10
0000000
000000