DFARS (Defense Acquisition Regulations Supplement)

DFARS

(Defense

Acquisition

Regulations

Supplement)
REACH (Registration, Evaluation, Authorization and Restriction of Chemicals)

REACH

(Registration,




Evaluation,

Authorization
and Restriction of

Chemicals)
RoHS (Restriction of Hazardous Substances)

RoHS

(Restriction

of
Hazardous

Substances)
Chemical Drain Cleaners

Liquid
Remove clogs by dissolving grease and other organic matter with these odorless cleaners.
Liquid cleaner can be poured directly into standing water.
Container
Size
For Use With
Active Ingredients
Each

Liquid

1 qt.
Grease Traps, Toilets, Urinals
Sodium Hydroxide
0000000
00000
Organic Drain Cleaners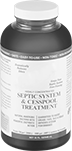 Liquid
Made of concentrated bacteria, these cleaners keep clogs from forming by breaking down waste buildup in drains, grease traps, and sewage systems.