Padlock Keys

Replace individual and get master padlock keys.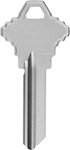 Find the key blanks you need to cut keys for padlocks, cabinet doors, and locksets. Match the equivalent key number on the key blank to the number printed on your key.
Not sure which key number you have? View actual-size drawings for all the key blanks we offer.
Equivalent Key Number
Material

Pkg.




Qty.

Pkg.

American

AM1, 1041C
Nickel-Plated Brass
10
000000000
00000
AM3, 1045
Nickel-Plated Brass
10
000000000
0000
AML2R, AM7, A1045
Nickel-Plated Brass
10
000000000
00000
1046
Nickel-Plated Brass
10
000000000
0000

Arrow

AR1, 1179
Nickel-Plated Brass
10
000000000
0000
AR4, 1179A
Nickel-Plated Brass
10
000000000
00000

Best

A1114A, BE2
Nickel-Plated Brass
10
000000000
0000
A1114B, BES2
Nickel-Plated Brass
10
000000000
00000
A1114C, BES3
Nickel-Plated Brass
10
000000000
00000
A1114D, BES4
Nickel-Plated Brass
10
000000000
0000
A1114E, BES5
Nickel-Plated Brass
10
000000000
0000
A1114FM, BE8, BES12
Nickel-Plated Brass
10
000000000
00000

Chicago

AP1, CH12, K101, 101AM
Nickel-Plated Brass
10
000000000
0000
AP2, CH13, K102, 102AM
Nickel-Plated Brass
10
000000000
0000
AP3, CH14, K103, 103AM
Nickel-Plated Brass
10
000000000
0000
AP4, CH11, 104AM
Nickel-Plated Brass
10
000000000
0000
CG1, 1041G
Nickel-Plated Brass
10
000000000
0000
CG16, 1041T
Nickel-Plated Brass
10
000000000
0000
CH24R, SC1041R
Nickel-Plated Brass
10
000000000
00000
S1041JA
Nickel-Plated Brass
10
000000000
00000

Corbin

A1001ABM, CO89
Nickel-Plated Brass
10
000000000
0000
A1001AH, CO91
Nickel-Plated Brass
10
000000000
0000
A1001EH, CO88
Nickel-Plated Brass
10
000000000
0000
CO1, 1000
Nickel-Plated Brass
10
000000000
0000
CO7, 1001EN
Nickel-Plated Brass
10
000000000
0000
CO26, 1000V
Nickel-Plated Brass
10
000000000
0000
CO68, S1000V
Nickel-Plated Brass
10
000000000
0000
CO87, 1001EH
Nickel-Plated Brass
10
000000000
0000
CO106, 1003M
Nickel-Plated Brass
10
000000000
0000
R1001EN, SK1
Nickel-Plated Brass
10
000000000
0000

Dexter

DE4, D1098X
Nickel-Plated Brass
10
000000000
0000
DE6, D1054K
Nickel-Plated Brass
10
000000000
0000

Eagle

EA47, EG2R, O1014S
Nickel-Plated Brass
10
000000000
0000

ESP

1502
Nickel-Plated Brass
10
000000000
00000

Falcon

A1054WC, FA2
Nickel-Plated Brass
10
000000000
00000
A1054WD
Nickel-Plated Brass
10
000000000
00000
1054WD
Nickel-Plated Brass
10
000000000
00000

Fort

FR2, L1054G
Nickel-Plated Brass
10
000000000
0000

Harloc

HR, TE3
Nickel-Plated Brass
10
000000000
0000
HR1, 1014C
Nickel-Plated Brass
10
000000000
0000

Haworth

HAW1, 1597
Nickel-Plated Brass
10
000000000
00000
HAW2, 1598
Nickel-Plated Brass
10
000000000
00000
HAW3, 1599
Nickel-Plated Brass
10
000000000
00000

Hudson

BO1, R1003M
Nickel-Plated Brass
10
000000000
0000

ILCO

IN3, X1054K
Nickel-Plated Brass
10
000000000
0000
IN8, L1054B
Nickel-Plated Brass
10
000000000
0000
IN33, 1054MT
Nickel-Plated Brass
10
000000000
0000
IN35, 1054DL
Nickel-Plated Brass
10
000000000
0000

Illinois

1043B
Nickel-Plated Brass
10
000000000
0000

Kwikset

A1176ST, KW10
Nickel-Plated Brass
10
000000000
0000
KW1, 1176
Nickel-Plated Brass
10
000000000
0000

Master

MS3R, M16, 1092NR
Nickel-Plated Brass
10
000000000
0000
M1RV, M15, 1092R
Nickel-Plated Brass
10
000000000
0000
M1, 1092
Nickel-Plated Brass
10
000000000
0000
M2, 1092B
Nickel-Plated Brass
10
000000000
0000
M4, 1092V
Nickel-Plated Brass
10
000000000
0000
M5, 1092VM
Nickel-Plated Brass
10
000000000
0000
M10, 1092N
Nickel-Plated Brass
10
000000000
0000
M12, 1092D
Nickel-Plated Brass
10
000000000
0000
M13, 1092DS
Nickel-Plated Brass
10
000000000
0000
M20, 1092-6000
Nickel-Plated Brass
10
000000000
0000

Medeco

A1515, MD4
Nickel-Plated Nickel Silver
10
000000000
00000
MD7, 1515
Nickel-Plated Nickel Silver
10
000000000
00000

National

NA6, R1064D
Nickel-Plated Brass
10
000000000
0000
NA12, 1069LB
Nickel-Plated Brass
10
000000000
0000
NA14, 1069L
Nickel-Plated Brass
10
000000000
0000
NA25, R1064E
Nickel-Plated Brass
10
000000000
0000
NCR6, RO3, 1069N
Nickel-Plated Brass
10
000000000
0000
RO7, 1069G
Nickel-Plated Brass
10
000000000
0000
1069H
Nickel-Plated Brass
10
000000000
00000

Russwin

A1011D1, RU46
Nickel-Plated Brass
10
000000000
0000
A1011D41, RU53
Nickel-Plated Brass
10
000000000
00000
A1011-L4, B74, RU101
Nickel-Plated Brass
10
000000000
0000
RU4, 1011P
Nickel-Plated Brass
10
000000000
0000
RU45, 1011D1
Nickel-Plated Brass
10
000000000
0000

Sargent

S22, O1007LA
Nickel Silver
10
000000000
00000
S22 1/2, 1007LA
Nickel Silver
10
000000000
0000
S26, SAR26R, O1007LF
Nickel Silver
10
000000000
00000
S68, 1010N
Nickel Silver
10
000000000
0000

Schlage

A1145E, SC9
Nickel-Plated Brass
10
000000000
0000
A1145EF, SH6
Nickel-Plated Brass
10
000000000
0000
A1145F, SC10, SH7
Nickel-Plated Brass
10
000000000
0000
A1145L, SC20
Nickel-Plated Brass
10
000000000
00000
SC1, 1145
Nickel-Plated Brass
10
000000000
0000
SC4, 1145A
Nickel-Plated Brass
10
000000000
0000
SC6, 1307A
Nickel-Plated Brass
10
000000000
0000
SC7, 1145F
Nickel-Plated Brass
10
000000000
0000
SC8, 1145E
Nickel-Plated Brass
10
000000000
0000

Segal

SE1, 1022
Nickel-Plated Brass
10
000000000
0000

Timberline

IL11, 1043J
Nickel-Plated Brass
10
000000000
0000

Weiser

WR3, 1054WB
Nickel-Plated Brass
10
000000000
0000

Westlock

WK2, 1175N
Nickel-Plated Brass
10
000000000
0000

Yale

L1122A, Y101, YA78
Nickel-Plated Brass
10
0000000
0000
Y1, 999
Nickel-Plated Brass
10
000000000
0000
Y2, 999A
Nickel-Plated Brass
10
000000000
0000
Y4, 998
Nickel-Plated Brass
10
000000000
0000
Y6, 997X
Nickel-Plated Brass
10
0000000
0000
Y11, O1122
Nickel-Plated Brass
10
000000000
0000
Y12, O1122A
Nickel-Plated Brass
10
000000000
0000
Y13, O1122R
Nickel-Plated Brass
10
0000000
0000
Y14, O1122AR
Nickel-Plated Brass
10
0000000
0000
Y52, 997E
Nickel-Plated Brass
10
000000000
0000
Y54, O997E
Nickel-Plated Brass
10
0000000
00000
Y103, 01122B
Nickel-Plated Brass
10
000000000
0000