About Sealant Flexibility
About Structural Adhesives
Adhesive Maintenance Kits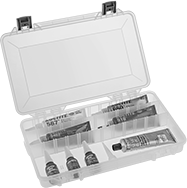 Assorted adhesives for routine maintenance work or quick repairs.
Mfr.

Includes
Component


(Mfr. Model No.)

Reaches Full


Strength,




hrs.

Mixing
Required
Each
Loctite®
Case
Pipe Thread Sealant (567)—50 ml Bottle
Threadlocker (243)—0.34 oz. Bottle
Threadlocker (263)—0.34 oz. Bottle
Retaining Compound (609)—0.34 oz. Bottle
Retaining Compound (660)—1.69. Tube
Gasket Maker Sealant (587)—2.4 oz. Tube
Gasket Maker Sealant (518)—1.69 oz. Tube
Pipe Thread Sealant (5452)—50 ml Bottle
24
No
0000000
0000000
Thread Sealants for Hydraulic
and Compressed Air Systems

Formulated for high lubricity, these sealants allow easy assembly of finely threaded hydraulic and compressed air system components. They're also free of fillers that could contaminate system media. These sealants are anaerobic, so they don't begin to harden until coated surfaces are threaded together, blocking exposure to air. Sealants with medium locking strength prevent threads from loosening due to vibration and shock. They require a hand tool to unthread.
Mfr.


Model


No.

Size,




oz.

Type
Begins
to
Harden
Reaches
Full
Strength
For
Fluids
For
Gases

Temp.




Range,




°F

For

Max.


Thread


Dia.

Consistency
Color
Each

Medium Locking Strength

Loctite® Sealants

5452
1.7
Tube
1 min.
24 hrs.
10,000
10,000
-65° to 300°

3/8

"
Thick Liquid
Purple
00000000
000000
5452
8.4
Tube
1 min.
24 hrs.
10,000
10,000
-65° to 300°

3/8

"
Thick Liquid
Purple
00000000
000000