Cast Wire Rope
Clamps—

Not for Lifting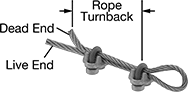 Use in noncritical applications, such as fencing, where the strength of a forged clamp is not required. Install clamps so the saddle is on the long (live) end and the U-bolt is on the short (dead) end. They're also known as wire rope clips.
Zinc-plated iron clamps are mildly corrosion resistant.
Galvanized iron clamps have a thicker coating than zinc-plated clamps for added corrosion resistance.
Warning: Test all assemblies for required strength before use. Do not use with coated rope unless the coating is removed.
For Wire
Rope


Dia.

No.

of
Clamps
Required
Rope
Turnback
For Wire
Rope
Construction

Wd.

Ht.

Thick.

Required


Torque,




ft.-lbs.

Capacity

1-9

10-Up

Iron

3/32

"
3
4

3/4

"
1 × 7 Strand Core
1 × 19 Strand Core
6 × 7 Fiber Core
6 × 19 IWRC
6 × 19 Fiber Core
6 × 26 IWRC
6 × 37 IWRC
7 × 7 Strand Core
7 × 19 IWRC
7 × 19 Strand Core

55/64

"

61/64

"

3/8

"
2
Not Rated
00000000
00000
00000

1/8

"
3
4

3/4

"
1 × 7 Strand Core
1 × 19 Strand Core
6 × 7 Fiber Core
6 × 19 IWRC
6 × 19 Fiber Core
6 × 26 IWRC
6 × 37 IWRC
7 × 7 Strand Core
7 × 19 IWRC
7 × 19 Strand Core
1"
1

5/32

"

7/16

"
3
Not Rated
00000000
000
000

3/16

"
3
5

1/2

"
1 × 7 Strand Core
1 × 19 Strand Core
6 × 7 Fiber Core
6 × 19 IWRC
6 × 19 Fiber Core
6 × 26 IWRC
6 × 37 IWRC
7 × 7 Strand Core
7 × 19 IWRC
7 × 19 Strand Core
1"
1

5/32

"

7/16

"
4.5
Not Rated
00000000
000
000

1/4

"
3
7"
1 × 7 Strand Core
1 × 19 Strand Core
6 × 7 Fiber Core
6 × 19 IWRC
6 × 19 Fiber Core
6 × 26 IWRC
6 × 37 IWRC
7 × 7 Strand Core
7 × 19 IWRC
7 × 19 Strand Core
1

3/16

"
1

25/64

"

1/2

"
15
Not Rated
00000000
0000
000

5/16

"
3
7

3/4

"
1 × 7 Strand Core
1 × 19 Strand Core
6 × 7 Fiber Core
6 × 19 IWRC
6 × 19 Fiber Core
6 × 26 IWRC
6 × 37 IWRC
7 × 7 Strand Core
7 × 19 IWRC
7 × 19 Strand Core
1

3/16

"
1

25/64

"

1/2

"
15
Not Rated
00000000
0000
0000

3/8

"
3
9

1/2

"
1 × 7 Strand Core
1 × 19 Strand Core
6 × 7 Fiber Core
6 × 19 IWRC
6 × 19 Fiber Core
6 × 26 IWRC
6 × 37 IWRC
7 × 7 Strand Core
7 × 19 IWRC
7 × 19 Strand Core
1

7/16

"
1

13/16

"

9/16

"
30
Not Rated
00000000
0000
0000

7/16

"
3
10

1/4

"
1 × 7 Strand Core
1 × 19 Strand Core
6 × 7 Fiber Core
6 × 19 IWRC
6 × 19 Fiber Core
6 × 26 IWRC
6 × 37 IWRC
7 × 7 Strand Core
7 × 19 IWRC
7 × 19 Strand Core
1

7/16

"
1

13/16

"

9/16

"
40
Not Rated
00000000
0000
0000

1/2

"
4
15

1/4

"
1 × 7 Strand Core
1 × 19 Strand Core
6 × 7 Fiber Core
6 × 19 IWRC
6 × 19 Fiber Core
6 × 26 IWRC
6 × 37 IWRC
7 × 7 Strand Core
7 × 19 IWRC
7 × 19 Strand Core
1

13/16

"
2

1/4

"

3/4

"
45
Not Rated
00000000
0000
0000

9/16

"
4
16"
1 × 7 Strand Core
1 × 19 Strand Core
6 × 7 Fiber Core
6 × 19 IWRC
6 × 19 Fiber Core
6 × 26 IWRC
6 × 37 IWRC
7 × 7 Strand Core
7 × 19 IWRC
7 × 19 Strand Core
1

15/16

"
2

5/8

"

3/4

"
50
Not Rated
00000000
0000
0000

5/8

"
4
16"
1 × 7 Strand Core
1 × 19 Strand Core
6 × 7 Fiber Core
6 × 19 IWRC
6 × 19 Fiber Core
6 × 26 IWRC
6 × 37 IWRC
7 × 7 Strand Core
7 × 19 IWRC
7 × 19 Strand Core
1

15/16

"
2

5/8

"

3/4

"
75
Not Rated
00000000
0000
0000

3/4

"
5
22

1/4

"
1 × 7 Strand Core
1 × 19 Strand Core
6 × 7 Fiber Core
6 × 19 IWRC
6 × 19 Fiber Core
6 × 26 IWRC
6 × 37 IWRC
7 × 7 Strand Core
7 × 19 IWRC
7 × 19 Strand Core
2

5/16

"
3

1/4

"

15/16

"
75
Not Rated
00000000
0000
0000

7/8

"
5
23

1/2

"
1 × 7 Strand Core
1 × 19 Strand Core
6 × 7 Fiber Core
6 × 19 IWRC
6 × 19 Fiber Core
6 × 26 IWRC
6 × 37 IWRC
7 × 7 Strand Core
7 × 19 IWRC
7 × 19 Strand Core
2

11/16

"
3

25/32

"

15/16

"
130
Not Rated
00000000
0000
0000
1"
6
31"
1 × 7 Strand Core
1 × 19 Strand Core
6 × 7 Fiber Core
6 × 19 IWRC
6 × 19 Fiber Core
6 × 26 IWRC
6 × 37 IWRC
7 × 7 Strand Core
7 × 19 IWRC
7 × 19 Strand Core
2

11/16

"
3

25/32

"

15/16

"
130
Not Rated
00000000
0000
0000

Galvanized Iron

1/4

"
3
7"
1 × 7 Strand Core
1 × 19 Strand Core
6 × 7 Fiber Core
6 × 19 IWRC
6 × 19 Fiber Core
6 × 26 IWRC
6 × 37 IWRC
7 × 7 Strand Core
7 × 19 IWRC
7 × 19 Strand Core
1

3/16

"
1

25/64

"

1/2

"
15
Not Rated
00000000
0000
0000

5/16

"
3
7

3/4

"
1 × 7 Strand Core
1 × 19 Strand Core
6 × 7 Fiber Core
6 × 19 IWRC
6 × 19 Fiber Core
6 × 26 IWRC
6 × 37 IWRC
7 × 7 Strand Core
7 × 19 IWRC
7 × 19 Strand Core
1

3/16

"
1

25/64

"

1/2

"
15
Not Rated
00000000
0000
0000

3/8

"
3
9

1/2

"
1 × 7 Strand Core
1 × 19 Strand Core
6 × 7 Fiber Core
6 × 19 IWRC
6 × 19 Fiber Core
6 × 26 IWRC
6 × 37 IWRC
7 × 7 Strand Core
7 × 19 IWRC
7 × 19 Strand Core
1

7/16

"
1

13/16

"

9/16

"
30
Not Rated
00000000
0000
0000

7/16

"
3
10

1/4

"
1 × 7 Strand Core
1 × 19 Strand Core
6 × 7 Fiber Core
6 × 19 IWRC
6 × 19 Fiber Core
6 × 26 IWRC
6 × 37 IWRC
7 × 7 Strand Core
7 × 19 IWRC
7 × 19 Strand Core
1

7/16

"
1

13/16

"

9/16

"
40
Not Rated
00000000
0000
0000

1/2

"
4
15

1/4

"
1 × 7 Strand Core
1 × 19 Strand Core
6 × 7 Fiber Core
6 × 19 IWRC
6 × 19 Fiber Core
6 × 26 IWRC
6 × 37 IWRC
7 × 7 Strand Core
7 × 19 IWRC
7 × 19 Strand Core
1

13/16

"
2

1/4

"

3/4

"
45
Not Rated
00000000
0000
0000

9/16

"
4
16"
1 × 7 Strand Core
1 × 19 Strand Core
6 × 7 Fiber Core
6 × 19 IWRC
6 × 19 Fiber Core
6 × 26 IWRC
6 × 37 IWRC
7 × 7 Strand Core
7 × 19 IWRC
7 × 19 Strand Core
1

15/16

"
2

5/8

"

3/4

"
50
Not Rated
00000000
0000
0000

5/8

"
4
16"
1 × 7 Strand Core
1 × 19 Strand Core
6 × 7 Fiber Core
6 × 19 IWRC
6 × 19 Fiber Core
6 × 26 IWRC
6 × 37 IWRC
7 × 7 Strand Core
7 × 19 IWRC
7 × 19 Strand Core
1

15/16

"
2

5/8

"

3/4

"
75
Not Rated
00000000
0000
0000

3/4

"
5
22

1/4

"
1 × 7 Strand Core
1 × 19 Strand Core
6 × 7 Fiber Core
6 × 19 IWRC
6 × 19 Fiber Core
6 × 26 IWRC
6 × 37 IWRC
7 × 7 Strand Core
7 × 19 IWRC
7 × 19 Strand Core
2

5/16

"
3

1/4

"

15/16

"
75
Not Rated
00000000
0000
0000

7/8

"
5
23

1/2

"
1 × 7 Strand Core
1 × 19 Strand Core
6 × 7 Fiber Core
6 × 19 IWRC
6 × 19 Fiber Core
6 × 26 IWRC
6 × 37 IWRC
7 × 7 Strand Core
7 × 19 IWRC
7 × 19 Strand Core
2

11/16

"
3

25/32

"

15/16

"
130
Not Rated
0000000
0000
0000
1"
6
31"
1 × 7 Strand Core
1 × 19 Strand Core
6 × 7 Fiber Core
6 × 19 IWRC
6 × 19 Fiber Core
6 × 26 IWRC
6 × 37 IWRC
7 × 7 Strand Core
7 × 19 IWRC
7 × 19 Strand Core
2

11/16

"
3

25/32

"

15/16

"
130
Not Rated
00000000
00000
00000

1/16

"
3
4

3/4

"
1 × 7 Strand Core
1 × 19 Strand Core
6 × 7 Fiber Core
6 × 19 IWRC
6 × 19 Fiber Core
6 × 26 IWRC
6 × 37 IWRC
7 × 7 Strand Core
7 × 19 IWRC
7 × 19 Strand Core

19/32

"

3/4

"

9/32

"
2
Not Rated
00000000
000
000

3/32

"
3
4

3/4

"
1 × 7 Strand Core
1 × 19 Strand Core
6 × 7 Fiber Core
6 × 19 IWRC
6 × 19 Fiber Core
6 × 26 IWRC
6 × 37 IWRC
7 × 7 Strand Core
7 × 19 IWRC
7 × 19 Strand Core

55/64

"

61/64

"

3/8

"
2
Not Rated
00000000
000
000

1/8

"
3
4

3/4

"
1 × 7 Strand Core
1 × 19 Strand Core
6 × 7 Fiber Core
6 × 19 IWRC
6 × 19 Fiber Core
6 × 26 IWRC
6 × 37 IWRC
7 × 7 Strand Core
7 × 19 IWRC
7 × 19 Strand Core
1"
1

5/32

"

7/16

"
3
Not Rated
00000000
000
000

3/16

"
3
5

1/2

"
1 × 7 Strand Core
1 × 19 Strand Core
6 × 7 Fiber Core
6 × 19 IWRC
6 × 19 Fiber Core
6 × 26 IWRC
6 × 37 IWRC
7 × 7 Strand Core
7 × 19 IWRC
7 × 19 Strand Core
1"
1

5/32

"

7/16

"
4.5
Not Rated
00000000
000
000

1/4

"
3
7"
1 × 7 Strand Core
1 × 19 Strand Core
6 × 7 Fiber Core
6 × 19 IWRC
6 × 19 Fiber Core
6 × 26 IWRC
6 × 37 IWRC
7 × 7 Strand Core
7 × 19 IWRC
7 × 19 Strand Core
1

3/16

"
1

25/64

"

1/2

"
15
Not Rated
00000000
0000
000

5/16

"
3
7

3/4

"
1 × 7 Strand Core
1 × 19 Strand Core
6 × 7 Fiber Core
6 × 19 IWRC
6 × 19 Fiber Core
6 × 26 IWRC
6 × 37 IWRC
7 × 7 Strand Core
7 × 19 IWRC
7 × 19 Strand Core
1

3/16

"
1

25/64

"

1/2

"
15
Not Rated
00000000
0000
0000

3/8

"
3
9

1/2

"
1 × 7 Strand Core
1 × 19 Strand Core
6 × 7 Fiber Core
6 × 19 IWRC
6 × 19 Fiber Core
6 × 26 IWRC
6 × 37 IWRC
7 × 7 Strand Core
7 × 19 IWRC
7 × 19 Strand Core
1

7/16

"
1

13/16

"

9/16

"
30
Not Rated
00000000
0000
0000

7/16

"
3
10

1/4

"
1 × 7 Strand Core
1 × 19 Strand Core
6 × 7 Fiber Core
6 × 19 IWRC
6 × 19 Fiber Core
6 × 26 IWRC
6 × 37 IWRC
7 × 7 Strand Core
7 × 19 IWRC
7 × 19 Strand Core
1

7/16

"
1

13/16

"

9/16

"
40
Not Rated
00000000
0000
0000

1/2

"
4
15

1/4

"
1 × 7 Strand Core
1 × 19 Strand Core
6 × 7 Fiber Core
6 × 19 IWRC
6 × 19 Fiber Core
6 × 26 IWRC
6 × 37 IWRC
7 × 7 Strand Core
7 × 19 IWRC
7 × 19 Strand Core
1

13/16

"
2

1/4

"

3/4

"
45
Not Rated
00000000
0000
0000

9/16

"
4
16"
1 × 7 Strand Core
1 × 19 Strand Core
6 × 7 Fiber Core
6 × 19 IWRC
6 × 19 Fiber Core
6 × 26 IWRC
6 × 37 IWRC
7 × 7 Strand Core
7 × 19 IWRC
7 × 19 Strand Core
1

15/16

"
2

5/8

"

3/4

"
50
Not Rated
00000000
0000
0000

5/8

"
4
16"
1 × 7 Strand Core
1 × 19 Strand Core
6 × 7 Fiber Core
6 × 19 IWRC
6 × 19 Fiber Core
6 × 26 IWRC
6 × 37 IWRC
7 × 7 Strand Core
7 × 19 IWRC
7 × 19 Strand Core
1

15/16

"
2

5/8

"

3/4

"
75
Not Rated
00000000
0000
0000

3/4

"
5
22

1/4

"
1 × 7 Strand Core
1 × 19 Strand Core
6 × 7 Fiber Core
6 × 19 IWRC
6 × 19 Fiber Core
6 × 26 IWRC
6 × 37 IWRC
7 × 7 Strand Core
7 × 19 IWRC
7 × 19 Strand Core
2

5/16

"
3

1/4

"

15/16

"
75
Not Rated
00000000
0000
0000

7/8

"
5
23

1/2

"
1 × 7 Strand Core
1 × 19 Strand Core
6 × 7 Fiber Core
6 × 19 IWRC
6 × 19 Fiber Core
6 × 26 IWRC
6 × 37 IWRC
7 × 7 Strand Core
7 × 19 IWRC
7 × 19 Strand Core
2

11/16

"
3

25/32

"

15/16

"
130
Not Rated
00000000
0000
0000
1"
6
31"
1 × 7 Strand Core
1 × 19 Strand Core
6 × 7 Fiber Core
6 × 19 IWRC
6 × 19 Fiber Core
6 × 26 IWRC
6 × 37 IWRC
7 × 7 Strand Core
7 × 19 IWRC
7 × 19 Strand Core
2

11/16

"
3

25/32

"

15/16

"
130
Not Rated
00000000
0000
0000