Biodegradable Hydraulic Oil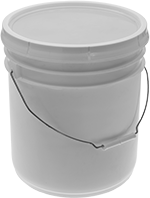 Protect equipment while having a limited impact on the environment. This oil is considered an Environmentally Acceptable Lubricant (EAL) by the EPA's Vessel General Permit. To qualify as an EAL, a lubricant must be able to quickly break down in water. Wear-resistant properties keep hydraulic pumps and equipment working, even in high-pressure systems.
Viscosity is the thickness of an oil. The higher the grade, the thicker the oil, and the less it flows.
ISO
AGMA
SAE

Size,




gal.

Type

Temp.




Range,




°F

Color
With
Detergent
Specifications
Met
Each

Vegetable Base Oil

46
1
20
5
Pail
-25° to 460°
Yellow
No
Environmentally Acceptable Lubricant (EAL) per VGP
0000000
0000000
68
2
20
5
Pail
-25° to 460°
Yellow
No
Environmentally Acceptable Lubricant (EAL) per VGP
0000000
000000