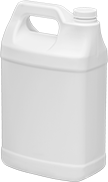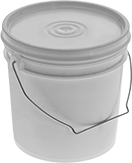 These lubricants go on wet for easy application. Once dry, they form a nonstick film that won't attract dust. Use them for general purpose lubricating in most applications.
Lubricants with oil are thin and won't stain. Lubricants with moly (molybdenum disulfide) withstand high loads and have excellent wear resistance. Lubricants with silicone are clear, have excellent water resistance, and can be used on most rubber and plastic. Lubricants with graphite have good heat and wear resistance. Apply lubricant in a can with an HVLP sprayer. Lubricants with PTFE can be used on most rubber and plastic surfaces. Aerosol can with a flip-up straw has a straw that's attached to the nozzle, so it won't get lost. Raise it for precision dispensing; lower it for storage or to dispense as a spray. Lubricants with boron nitride and ceramic are often used in extreme-temperature applications, such as welding, metal processing, and glassmaking. Dilute 1-gallon pail with water before using.
CRC 3-36 Ultra Lite dries out electronic components and dries to form a water-repellent seal.
DuPont Molykote 557 Silicone Dry Film is often used on blades to keep them sharp longer. DuPont Molykote D-321 R Anti-Friction withstands extreme temperatures and is long lasting.
Dri Slide lubricants have good corrosion resistance. Use Dri Slide EP Liquid Grease for extreme-pressure applications, such as with open gears and dies, wire drawing, and stamping.
Sprayon LU 204 Dry Film Graphite has good corrosion resistance and is conductive.
Lubricants that cannot be sold outside the United States are restricted by product labeling requirements.
Each
Size
Type
Features
Additive

Temp.




Range,




°F

Specifications
Met
Cannot
Be
Sold To
Each
11 oz.
Aerosol Can
__
Oil
-40° to 300°
__
Outside United States
0000000
000000
1 gal.
Jug
__
Oil
-40° to 300°
__
Outside United States
0000000
00000

DuPont Molykote 557 Silicone Dry Film

13.5 oz.
Aerosol Can
__
Silicone
-40° to 110°
__
__
0000000
00000

DuPont Molykote

D-321

R

Anti-Friction

15.1 oz.
Aerosol Can
__
Moly, Graphite
-290° to 840°
__
__
0000000
00000

DuPont Teflon®

Non-Stick

Dry-Film

14 oz.
Aerosol Can
__
PTFE
-100° to 480°
__
Outside United States
0000000
0000

Dri Slide EP Liquid Grease

8 oz.
Aerosol Can
__
Moly, Graphite
-20° to 750°
__
__
0000000
00000
4 oz.
Squeeze Bottle
__
Moly, Graphite
-20° to 750°
__
__
0000000
00000
5.3 oz.
Aerosol Can
__
Moly, Graphite
-20° to 750°
__
__
0000000
00000
32 oz.
Jug
__
Moly, Graphite
-20° to 750°
__
__
0000000
00000
1 gal.
Jug
__
Moly, Graphite
-20° to 750°
__
__
0000000
00000

Sprayon LU 204 Dry Film Graphite

14 oz.
Spray Bottle
__
Graphite
-40° to 850°
NSF Registered H2
__
0000000
00000

WD-40

Specialist Dry Lube

10 oz.
Aerosol Can
Flip-Up Straw
PTFE
-50° to 500°
__
Outside United States
0000000
00000

Lubricants

8.3 oz.
Aerosol Can
__
Moly
-100° to 650°
__
__
0000000
00000
13 oz.
Aerosol Can
__
Boron Nitride, Ceramic
32° to 1560°
__
__
00000000
00000
1 gal.
Can
__
Graphite
-75° to 450°
__
__
0000000
00000
1 gal.
Pail
__
Boron Nitride, Ceramic
32° to 1560°
__
__
00000000
000000
Package
Size
Type
Features
Additive

Temp.




Range,




°F

Specifications
Met
Cannot
Be
Sold To

Pkg.




Qty.

Pkg.

11 oz.
Aerosol Can
__
Oil
-40° to 300°
__
Outside United States
12
00000000
0000000
1 gal.
Jug
__
Oil
-40° to 300°
__
Outside United States
4
00000000
000000

DuPont Molykote 557 Silicone Dry Film

13.5 oz.
Aerosol Can
__
Silicone
-40° to 110°
__
__
12
00000000
000000

DuPont Molykote

D-321

R

Anti-Friction

15.1 oz.
Aerosol Can
__
Moly, Graphite
-290° to 840°
__
__
12
00000000
000000

DuPont Teflon®

Non-Stick

Dry-Film

14 oz.
Aerosol Can
__
PTFE
-100° to 480°
__
Outside United States
6
00000000
00000

Dri Slide EP Liquid Grease

8 oz.
Aerosol Can
__
Moly, Graphite
-20° to 750°
__
__
12
00000000
000000
4 oz.
Squeeze Bottle
__
Moly, Graphite
-20° to 750°
__
__
12
00000000
000000
5.3 oz.
Aerosol Can
__
Moly, Graphite
-20° to 750°
__
__
12
00000000
000000
32 oz.
Jug
__
Moly, Graphite
-20° to 750°
__
__
12
00000000
000000
1 gal.
Jug
__
Moly, Graphite
-20° to 750°
__
__
4
00000000
000000

Sprayon LU 204 Dry Film Graphite

14 oz.
Spray Bottle
__
Graphite
-40° to 850°
NSF Registered H2
__
12
00000000
000000

WD-40

Specialist Dry Lube

10 oz.
Aerosol Can
Flip-Up Straw
PTFE
-50° to 500°
__
Outside United States
6
0000000
00000

Lubricants

8.3 oz.
Aerosol Can
__
Moly
-100° to 650°
__
__
12
00000000
000000
13 oz.
Aerosol Can
__
Boron Nitride, Ceramic
32° to 1560°
__
__
12
000000000
000000