Open Gear and Chain Grease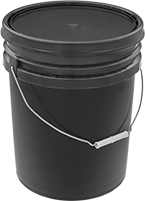 Tackier than gear box grease, this grease sticks to open gears and roller chain. It resists moisture for corrosion protection and can lubricate under heavy loads.
NLGI viscosity grade is a rating of a grease's consistency. NLGI 0 is about the consistency of brown mustard. NLGI 1 is about the consistency of tomato paste. NLGI 2 is about the consistency of peanut butter. NLGI 3 is about the consistency of vegetable shortening.
Mineral-oil-based grease, derived from petroleum, is more economical than synthetic-oil-based grease. Synthetic-oil-based grease lasts longer than mineral-oil-based grease and withstands a wider range of temperatures.
Grease with lithium thickener offers good heat and moisture resistance. Grease with PTFE thickener has good heat, moisture, and oxidation resistance. Grease with talc thickener is long lasting and moisture resistant. Grease with asphalt thickener is thicker for excellent adhesion to chain and open gears.
Grease with moly (molybdenum disulfide) has excellent resistance to wear and can withstand high-load and high-pressure applications. Grease with zinc neutralizes acid and is a good replacement for leaded grease.
Grease lubricates most efficiently within the listed temperature range. Melting temperature is the point at which grease will fail and run out of equipment, leaving it to run dry. Nonmelting grease can be used at temperatures above the maximum temperature briefly, but then will break down more quickly.
Chemours Krytox™ GPL 215 withstands high loads and pressure. It handles extreme temperature swings, resists aggressive chemicals, such as acids and oxygen, and is long lasting with an indefinite shelf life.
Each
NLGI
Viscosity
Grade
Base
Oil
Additive
Size
Type

Temp.




Range,




°F

Melting


Temp.,




°F

Color
Each

DuPont Molykote 1122 Chain and Open Gear

Grease—

Talc Thickener

2-3
Synthetic
Moly
14 oz.
Aerosol Can
32° to 320°
Not Rated
Dark Gray
0000000
000000
2-3
Synthetic
Moly
14 oz.
Jar
32° to 320°
545°
Black
0000000
00000

Chemours Krytox™ GPL

215—

PTFE Thickener

2
Synthetic
Moly
0.5 oz.
Tube
-30° to 400°
Nonmelting
Black
00000000
00000
2
Synthetic
Moly
2 oz.
Tube
-30° to 400°
Nonmelting
Black
00000000
00000
2
Synthetic
Moly
8 oz.
Tube
-30° to 400°
Nonmelting
Black
00000000
000000
2
Synthetic
Moly
14 oz.
Grease Gun Cartridge
-30° to 400°
Not Rated
Black
00000000
000000

Lubriplate Gear Shield Extra

Heavy—

Asphalt and Lithium Thickener

3
Mineral
Zinc
10.5 oz.
Caulk Gun Cartridge
20° to 275°
370°
Black
000000000
00000
3
Mineral
Zinc
11 oz.
Aerosol Can
20° to 275°
370°
Black
000000000
00000

Mobil Mobilux EP

111—

Lithium Thickener

1
Mineral
Moly
13.7 oz.
Grease Gun Cartridge
15° to 245°
355°
Black
0000000
0000
1
Mineral
Moly
35 lbs.
Pail
15° to 245°
355°
Black
0000000
000000

Shell Gadus S2

High-Speed

Coupling

Grease—

Lithium Thickener

0-1
Mineral
__
14 oz.
Grease Gun Cartridge
-10° to 250°
605°
Brown
0000000
00000
Package
NLGI
Viscosity
Grade
Base
Oil
Additive
Size
Type

Temp.




Range,




°F

Melting


Temp.,




°F

Color

Pkg.




Qty.

Pkg.

DuPont Molykote 1122 Chain and Open Gear

Grease—

Talc Thickener

2-3
Synthetic
Moly
14 oz.
Aerosol Can
32° to 320°
Not Rated
Dark Gray
12
00000000
0000000
2-3
Synthetic
Moly
14 oz.
Jar
32° to 320°
545°
Black
12
00000000
000000

Lubriplate Gear Shield Extra

Heavy—

Asphalt and Lithium Thickener

3
Mineral
Zinc
10.5 oz.
Caulk Gun Cartridge
20° to 275°
370°
Black
40
000000000
000000
3
Mineral
Zinc
11 oz.
Aerosol Can
20° to 275°
370°
Black
12
000000000
000000

Mobil Mobilux EP

111—

Lithium Thickener

1
Mineral
Moly
13.7 oz.
Grease Gun Cartridge
15° to 245°
355°
Black
10
00000000
00000

Shell Gadus S2

High-Speed

Coupling

Grease—

Lithium Thickener

0-1
Mineral
__
14 oz.
Grease Gun Cartridge
-10° to 250°
605°
Brown
10
00000000
00000