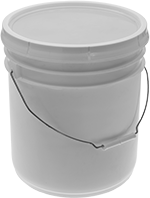 Apply directly to seals and O-rings to extend service life by preventing drying and cracking.
NLGI viscosity grade is a rating of a grease's consistency. NLGI 1 is about the consistency of tomato paste. NLGI 2 is about the consistency of peanut butter.
Mineral-oil-based grease, derived from petroleum, is more economical than synthetic-oil-based grease. Synthetic-oil-based grease lasts longer than mineral-oil-based grease and withstands a wider range of temperatures.
Grease with lithium thickener offers good heat and moisture resistance. Grease with PTFE thickener has good heat, moisture, and oxidation resistance. Grease with silica thickener resists washing off and reduces corrosion in wet environments. Grease with barium thickener is for use with silicone rubber O-rings and seals in open systems.
Grease with moly (molybdenum disulfide) has excellent resistance to wear and can withstand high-load and high-pressure applications. Grease with PTFE has small particles of PTFE that reduce friction and help the grease maintain its lubricity. Grease with zinc neutralizes acid and is a good replacement for leaded grease.
Grease lubricates most efficiently within the listed temperature range. Melting temperature is the point at which grease will fail and run out of equipment, leaving it to run dry.
DuPont Molykote 55 O-Ring Grease is silicone-based, so it can be used with most rubbers and plastics. Not recommended for use with silicone rubber, polycarbonate plastic, or ABS plastic. Chemours Krytox™ 240AC Type III resists most acids, bases, solvents, and fuels, and is long lasting with an indefinite shelf life. Loctite® Krytox™ RFE PFPE LB 8209 handles extreme temperature swings, resists acids, bases, and fuels, and is long lasting. It can be used under high loads.
Jet-Lube Ezy-Open is a grease-like liquid that contains detergent and PTFE additives to clean more effectively than grease while it lubricates. Since it is a liquid, it does not have a NLGI viscosity grade, but is less viscous than anything else in our offering.
Each
NLGI Viscosity
Grade
Base Oil
Additive
Size
Type

Temp.




Range,

°F

Melting


Temp.,

°F

Color
Specifications Met
Each

DuPont Molykote 55

O-Ring

Grease—

Lithium Thickener

2
Synthetic
Moly
5.3 oz.
Tube
-85° to 350°
425°
White
__
0000000
000000
2
Synthetic
Moly
8 lbs.
Pail
-85° to 350°
425°
White
__
0000000
000000

Chemours Krytox™ 240AC Type

III—

PTFE Thickener

2
Synthetic
__
2 oz.
Tube
-30° to 550°
Not Rated
White
MIL-PRF-27617
00000000
000000
2
Synthetic
__
8 oz.
Tube
-30° to 550°
Not Rated
White
MIL-PRF-27617
00000000
00000000

Loctite® Krytox™ RFE PFPE LB

8209—

PTFE Thickener

2
Synthetic
__
2 oz.
Tube
-15° to 500°
Not Rated
White
__
0000000
00000

Jet-Lube

Ezy-Open

Liquid—

Silica Thickener

__
Synthetic
PTFE
35 lbs.
Pail
-10° to 400°
Not Rated
Amber
__
0000000
000000

Lubriplate

Aero—

Lithium Thickener

1
Mineral
Zinc
1.8 oz.
Tube
-70° to 250°
380°
Off-White
__
0000000
0000

Barium Thickener

2
Mineral
__
4 oz.
Tube
0° to 300°
410°
Amber
__
0000000
00000
Package
NLGI Viscosity
Grade
Base Oil
Additive
Size
Type

Temp.




Range,

°F

Melting


Temp.,

°F

Color

Pkg.




Qty.

Pkg.

DuPont Molykote 55

O-Ring

Grease—

Lithium Thickener

2
Synthetic
Moly
5.3 oz.
Tube
-85° to 350°
425°
White
12
00000000
0000000

Lubriplate

Aero—

Lithium Thickener

1
Mineral
Zinc
1.8 oz.
Tube
-70° to 250°
380°
Off-White
36
00000000
000000

Barium Thickener

2
Mineral
__
4 oz.
Tube
0° to 300°
410°
Amber
24
00000000
000000