Machinable Fixture Clamps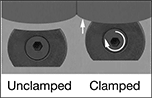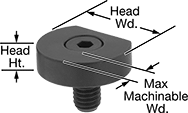 Machine these clamps to match the contours of your workpiece. Thread the clamp into a tapped hole and give the center screw a half turn for quick clamping. They hold securely while making minimal contact, leaving more of the workpiece free for machining.
For technical drawings and 3-D models, click on a part number.
Each
Wd.

Ht.

Max.


Movement

Max.

Clamping


Force,

lbs.

Max.


Machinable

Wd.

Size

Lg.

Size
Style
Head
Material
Screw
Material
Each

31/32

"

1/4

"
0.04"
800
0.25"

1/4

"-20

15/32

"

1/8

"
Hex

Steel
Steel
0000000
000000
1

7/32

"

23/64

"
0.05"
2,000
0.275"

3/8

"-16

23/32

"

3/16

"
Hex

Steel
Steel
0000000
00000
1

15/32

"

29/64

"
0.1"
4,000
0.3"

1/2

"-13

29/32

"

5/16

"
Hex

Steel
Steel
0000000
00000
1

23/32

"

35/64

"
0.1"
6,000
0.35"

5/8

"-11

1

1/8

"

3/8

"
Hex

Steel
Steel
0000000
00000
Package
Wd.

Ht.

Max.


Movement

Max.


Clamping


Force,

lbs.

Max.


Machinable


Wd.

Size

Lg.

Size
Style
Head
Material
Screw
Material

Pkg.




Qty.

Pkg.

31/32

"

1/4

"
0.04"
800
0.25"

1/4

"-20

15/32

"

1/8

"
Hex

Steel
Steel
4
0000000
000000
1

7/32

"

23/64

"
0.05"
2,000
0.275"

3/8

"-16

23/32

"

3/16

"
Hex

Steel
Steel
4
0000000
00000
1

15/32

"

29/64

"
0.1"
4,000
0.3"

1/2

"-13

29/32

"

5/16

"
Hex

Steel
Steel
4
0000000
00000
1

23/32

"

35/64

"
0.1"
6,000
0.35"

5/8

"-11

1

1/8

"

3/8

"
Hex

Steel
Steel
4
0000000
00000