Machine Vision Inspection and Sorting Cameras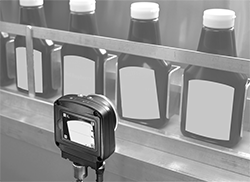 Inspect objects on your conveyor line for defects such as surface flaws, crooked labels, and missing screws. Use the touch screen to select one of four settings: flaw identification, shape verification, feature recognition, or parts sorting. When the camera detects an issue, it sends a signal to remove the item. The output signal can be configured as PNP or NPN to match the input of your PLC or other control device. The camera has a sealed housing that's IP67 rated for keeping out dust and moisture.
Field of view adjustment lens kit includes five lenses: 4.3, 6, 8, 16, and 25 mm. As the lens size decreases, the field of view widens.
Max.


Illumination
Distance
Photography
Speed

Lg.

Wd.

Ht.

Lens


Dia.,


mm
Voltage
Range
Output


Current,


mA
Hardware
Included

No.


of
Holes
Hole
Thread
Size

Hole
Thread


Pitch,

mm
Includes
Connection
Type
Plug
Type
Cord


Lg.,




ft.

Each
12"
98 fps
3

1/8

"
2"
3

3/4

"
12
10V DC-30V DC
150
Yes
3
M4

0.7
Connection Cords
4-pin USB Type A (Male)
12 Pin
15
0000000
000000000
| | | | |
| --- | --- | --- | --- |
| Field of View Adjustment Lens Kit | 0000000 | Each | 0000000 |
Machine Vision Cameras

Take a photo of objects as they move along a conveyor. The cameras and lenses are sold separately, so you can create the perfect inspecting tool for your operation. They connect to your computer with a USB cord (sold separately). Use the tripod adapter (sold separately) for mounting onto your tripod with a 1/4"-20 threaded connection.
Monochrome cameras are the best choice when using infrared-light illumination.
Megapixels
Resolution
Photography
Speed

Lg.

Wd.

Ht.

USB
Connection
Type
Connection
Gender
USB
Standard
Cord


Lg.,




ft.

Fasteners
Included
Hole
Thread
Size × Pitch

No.


Holes
Environmental
Rating
Each

Color

1.3
1280 × 1024
25 fps
1

1/4

"
1

1/2

"
1

3/8

"
Mini-B
Female
2.0
15
No
M2 × 0.4mm, M3 × 0.5mm
4
IP30
0000000
0000000

Monochrome

1.3
1280 × 1024
25 fps
1

1/4

"
1

1/2

"
1

3/8

"
Mini-B
Female
2.0
15
No
M2 × 0.4mm, M3 × 0.5mm
4
IP30
0000000
000000
Robot-Ready

Machine Vision Cameras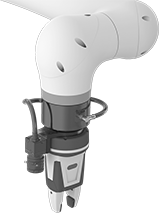 Mounted on End of Robot Arm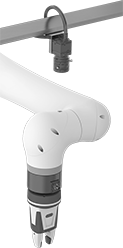 Mounted Overhead
These cameras enable your robot arm to identify and grab items on its own, without needing you to neatly arrange workpieces in advance. The included software makes them easy to set up and integrate with your FANUC CRX robot—letting you use a graphical interface to calibrate the camera and incorporate machine vision into your robot program. Cameras operate in grayscale 2D. They work best when there is high contrast between the parts and their background, when parts are stationary and uniformly shaped, and when items aren't stacked or overlapping one another. Add lighting to create more contrast between your workpiece and your work surface.
Mount these cameras to the end of your robot arm. Using the included 10-in. cord, they connect directly to the arm's built-in port, so there is no cable management to worry about. These cameras can also be mounted overhead or to nearby fixtures—a good option when grabbing larger workpieces or when prioritizing speed, letting the camera take an image of your workpiece while the robot is finishing its previous cycle. For this option, connect the camera to the controller using the included 18-ft. cord.
For technical drawings and 3-D models, click on a part number.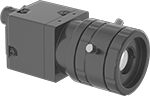 Machine Vision Camera
Manufacturer


(Series)

Manufacturer
Model


No.

Megapixels
Resolution
Photography
Speed

Lg.,


mm

Wd.,


mm

Ht.,


mm
Lens


Dia.,


mm
Coaxial
Connection
Type

(No. of)

Fasteners
Included
Hole
Thread
Size

(No. of)

Includes
Each

For FANUC CRX

10iA,

10iA/L

Arms with R30iB Mini Plus Controller

FANUC
(IR Vision)
A05B-1426-K001
1.3
1280 × 1024
33.8 fps
29
29
52
12
BNC (1)
No
M2 (4), M3 (3)
2D Guidance Plus Software, 10-in. Lg. End-of-Robot Arm Coaxial Cord, 18-ft. Lg. Controller Coaxial Cord
0000000
000000000
Aluminum Mount
Use these mounts to attach a machine vision camera to the end of your robot arm. They have a standard ISO 50 mounting pattern and can be used with or without a tool. Use adapters (not included) to pair with tools that have different mounting patterns. Alternatively, attach cameras to an overhead fixture.
For Machine Vision Camera

Machine Vision Camera


Mount.

Location

End of Robot Arm


Mount.

Location

Manufacturer


(Series)

Manufacturer
Model


No.

Manufacturer


(Series)

Manufacturer
Model


No.

Lg.,


mm

Wd.,


mm

Ht.,


mm

Mount.


Fasteners
Included
Bolt Hole


Dia.




(No. of Holes)

Mount.


Fasteners
Included
Bolt Circle

Dia.




(Mount.

Hole
Pattern

Compatibility)

Each

Aluminum

FANUC
(IR Vision)
A05B-1426-K001
FANUC (CRX)
10iA
10iA/L
98
95
49
Yes
2.4 mm (4), 3.4 mm (3)
Yes
50 mm (ISO 50)
0000000
0000000