About Air Filter Efficiency Ratings
Made-to-Order

Pleated Panel Air Filters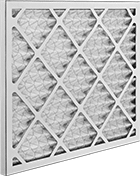 Filters are sold as trade size; add 1/2" to the length and width you need. Minimum filter size is 4" × 4". Maximum filter size is 23" × 30". Multiply the length × width to determine square inches. Then, see size ranges for pricing.
Filters have pleats that create a large surface area for filtering without reducing airflow. They are typically used as replacement filters in HVAC equipment. The cardboard frame is treated to resist humidity, and the galvanized steel grill prevents sagging.
They meet UL 900 flame retardance requirements.
Also Available: Filters larger than 23" × 30". Please ask for 3923T999 and specify material, thickness, actual length, and actual width.
Size


Range,




sq.

in.

MERV
Filter
Rating

1 Micron

3 Microns

Removes Particle
Size Down


To,

microns
Material
Frame
Material

Max.




Temp.,




°F

Pkg.




Qty.

Pkg.

16-149
9

35%
75%
3
Polyethylene Plastic/Polypropylene Plastic Blend
Cardboard
150°
12
0000000
0000000
150-199
9

35%
75%
3
Polyethylene Plastic/Polypropylene Plastic Blend
Cardboard
150°
12
0000000
000000
200-249
9

35%
75%
3
Polyethylene Plastic/Polypropylene Plastic Blend
Cardboard
150°
12
0000000
000000
250-299
9

35%
75%
3
Polyethylene Plastic/Polypropylene Plastic Blend
Cardboard
150°
12
0000000
000000
300-399
9

35%
75%
3
Polyethylene Plastic/Polypropylene Plastic Blend
Cardboard
150°
12
0000000
000000
400-499
9

35%
75%
3
Polyethylene Plastic/Polypropylene Plastic Blend
Cardboard
150°
12
0000000
000000
500-599
9

35%
75%
3
Polyethylene Plastic/Polypropylene Plastic Blend
Cardboard
150°
12
0000000
000000
600-690
9

35%
75%
3
Polyethylene Plastic/Polypropylene Plastic Blend
Cardboard
150°
12
0000000
000000
16-149
9

35%
75%
3
Polyethylene Plastic/Polypropylene Plastic Blend
Cardboard
150°
12
0000000
000000
150-199
9

35%
75%
3
Polyethylene Plastic/Polypropylene Plastic Blend
Cardboard
150°
12
0000000
000000
200-249
9

35%
75%
3
Polyethylene Plastic/Polypropylene Plastic Blend
Cardboard
150°
12
0000000
000000
250-299
9

35%
75%
3
Polyethylene Plastic/Polypropylene Plastic Blend
Cardboard
150°
12
0000000
000000
300-399
9

35%
75%
3
Polyethylene Plastic/Polypropylene Plastic Blend
Cardboard
150°
12
0000000
000000
400-499
9

35%
75%
3
Polyethylene Plastic/Polypropylene Plastic Blend
Cardboard
150°
12
0000000
000000
500-599
9

35%
75%
3
Polyethylene Plastic/Polypropylene Plastic Blend
Cardboard
150°
12
0000000
000000
600-690
9

35%
75%
3
Polyethylene Plastic/Polypropylene Plastic Blend
Cardboard
150°
12
0000000
000000