About Air Filter Efficiency Ratings
Made-to-Order

Panel Air Filters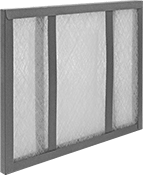 Minimum filter size is 4" × 4". Maximum filter size is 23" × 30". Multiply the length × width to determine square inches. Then, see size ranges for pricing.
Typically used as replacements in HVAC equipment, these filters work as a standalone filter or a prefilter that guards your main filter. They're an economical choice for protecting expensive filters that catch fine particles.
All meet UL 900 flame retardance requirements.
Also Available: Filters larger than 23" × 30". Please ask for 3884T999 and specify material, thickness, actual length, and actual width.
For technical drawings and 3-D models, click on a part number.
Size

Range,




sq.

in.

MERV Filter
Rating

Material
Frame
Material

Max.




Temperature,

°F

Pkg.




Qty.

Pkg.

16-149 sq. in.
5

Fiberglass
Cardboard
180°
12
0000000
000000
150-199 sq. in.
5

Fiberglass
Cardboard
180°
12
0000000
00000
200-249 sq. in.
5

Fiberglass
Cardboard
180°
12
0000000
00000
250-299 sq. in.
5

Fiberglass
Cardboard
180°
12
0000000
00000
300-399 sq. in.
5

Fiberglass
Cardboard
180°
12
0000000
00000
400-499 sq. in.
5

Fiberglass
Cardboard
180°
12
0000000
00000
500-599 sq. in.
5

Fiberglass
Cardboard
180°
12
0000000
000000
600-690 sq. in.
5

Fiberglass
Cardboard
180°
12
0000000
000000
16-149 sq. in.
5

Fiberglass
Cardboard
180°
12
0000000
00000
150-199 sq. in.
5

Fiberglass
Cardboard
180°
12
0000000
00000
200-249 sq. in.
5

Fiberglass
Cardboard
180°
12
0000000
00000
250-299 sq. in.
5

Fiberglass
Cardboard
180°
12
0000000
000000
300-399 sq. in.
5

Fiberglass
Cardboard
180°
12
0000000
000000
400-499 sq. in.
5

Fiberglass
Cardboard
180°
12
0000000
000000
500-599 sq. in.
5

Fiberglass
Cardboard
180°
12
0000000
000000
600-690 sq. in.
5

Fiberglass
Cardboard
180°
12
0000000
000000