About Air Filter Efficiency Ratings
Made-to-Order

Heavy Duty Reusable Metal Panel Filters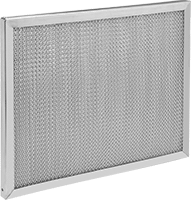 We can get you any size filter. Multiply the length × width to determine square inches. Then, see size ranges for pricing.
These filters are also known as metal mesh filters. With a frame made of a thick gauge metal, they are durable. These frames can be washed and reused.
Filters meet UL 900 flame retardance requirements.
Also Available: Filters larger than 599 square inches. Please ask for 2150K999 and specify thickness, actual length, and actual width.
For technical drawings and 3-D models, click on a part number.
Size Range
MERV Filter
Rating

Removes Particle Size
Down

To,

microns
Material
Frame
Gauge

Max.




Temperature,

°F

Each
1 sq. in.-299 sq. in.
4

10
Aluminum
18
240°
0000000
000000
300 sq. in.-599 sq. in.
4

10
Aluminum
18
240°
0000000
00000
1 sq. in.-299 sq. in.
4

10
Aluminum
18
240°
0000000
00000
300 sq. in.-599 sq. in.
4

10
Aluminum
18
240°
0000000
00000
1 sq. in.-299 sq. in.
4

10
Aluminum
18
240°
0000000
00000
300 sq. in.-599 sq. in.
4

10
Aluminum
18
240°
0000000
00000