Made-to-Order

Stainless Steel Round Parts Baskets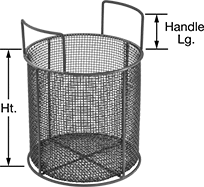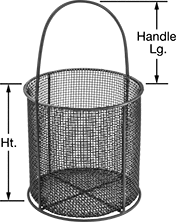 Loop Handle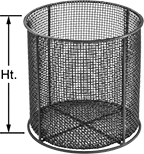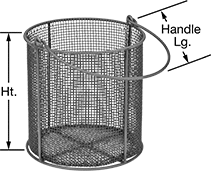 Swing Handle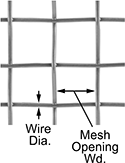 Create a basket to meet your exact size specifications. These baskets are made of 304 stainless steel for excellent corrosion resistance. Note: Do not use 0.012" wire dia. baskets with sharp objects.
Dual-grip baskets have a handle length of 3". 6" dia. and larger dual-grip baskets are stackable.
Loop- and swing-handle baskets have a handle length that is half the diameter.
To Order: Please specify diameter, height, mesh opening width, and handle style. Diameter and height are available in 1/2" increments.
Choose
a


Dia.

Choose
a


Ht.

Choose
a Mesh
Opening

Wd.

Choose a
Handle
Style

Capacity,




lbs.

Max.




Temp.,




°F

Material
Appearance

1-2

3-Up

4"-7"
3"-12"
0.021",

5/64

",

3/16

"
40
900°
304 Stainless Steel
Dull
00000000
0000000
0000000
7

1/2

"-11"
3"-12"
0.021",

5/64

",

3/16

"
40
900°
304 Stainless Steel
Dull
00000000
000000
000000
11

1/2

"-15"
3"-12"
0.021",

5/64

",

3/16

"
40
900°
304 Stainless Steel
Dull
00000000
000000
000000
15

1/2

"-18"
3"-12"
0.021",

5/64

",

3/16

"
40
900°
304 Stainless Steel
Dull
0000000
000000
000000