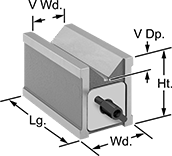 Magnetic surfaces on the bottom, back, and one V face of these blocks eliminate the need for mounting clamps and bolts. Turn the lever to switch the magnetic force on and off.
For technical drawings and 3-D models, click on a part number.
V-Block

Magnetic-Mount

Bench Vise Jaw Liners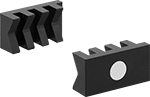 Attach these V-shaped liners to vise jaws and hold large round material. Liners are made of plastic that won't mar workpieces.